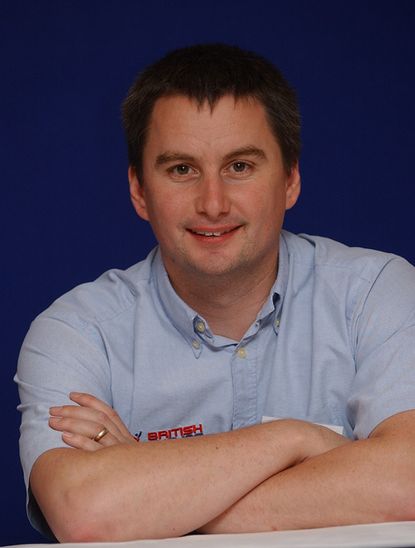 With millions of pounds in sponsorship about to start rolling in from satellite broadcaster Sky, British Cycling has found itself with the opportunity of a lifetime.
Funding for their various programs has been coming in for years, but now they have partner who can promote those programs, and cycling in general, direct to one-in-three households in the UK. Indirectly, Sky?s promotions go nationwide.
Ian Drake, BC?s Deputy Chief Executive of governance and participation will play a pivotal roll in where cycling?s governing body goes from here. With the sponsorship deal still in its infancy the details are yet to be thrashed out, we asked Drake what they do next. ?It?s a combination of two things. One is looking at what we?re already doing, like our programs we?re running in schools and expanding some of those,? he explained.
?But the key thing is that we know from the data coming out of the ?active people? survey?s done by Sport England, is that there?s two million people who say they want to be active. The key thing is how do you get to those people and make it easier for them to do that??
?The [sponsorship] is in the region of £1m a year, but that?s not the most important bit. The most important bit is the marketing, that?s the real key to this. That?s something that Sport England and a lot of sports struggle with.?
?One of the challenges we?ve had is how do we talk to people from a media perspective, and that?s one of the things that Sky will bring to the table and that will enable us to put things in place to make it easier for people to start cycling, but also go and talk to people about cycling and making sure the opportunity is there.?
Sport England fund governing bodies to assist them in increasing participation and the deal with Sky boosts the potential of new initiatives coming in. ?We want to integrate this in to our submission to Sport England for funding from 2009 to 2013. Our current funding runs out in March 2009, so we?re going to have to submit new plans to take us through to 2013, but the opportunity to integrate Sky in to that proposal is phenomenal.?
BC is already talking to Sky about re-branding current cycling events or introducing new ones that should help grow membership. ?One of the things about the deal is to leave a real legacy for British Cycling,? Drake said. ?So rather than a sponsor just coming in and writing a cheque year after year and after four year?s disappearing, one of the key things we?re looking to do is to grow the membership, so that we?ve got our own resources.?
?We?ve gone from 15,000 [members] in 2005 to nearly 23,000 now, and that?s allowed us to do more things with our volunteers, all those little things that support the people that make the sport happen. That?s one of the key things with the deal with Sky, it?ll allow us to grow more so that we?ve got more money to put back in to our own events, but in a sustainable way so that it?s not here one year and gone the next.?
More funds coming from a larger membership should allow BC to grow it?s events, from mass participation sportives to the Premier Calendar and Circuit Series. Then there?s the very real possibility of getting these on Sky TV. ?It?s not something we?ve thrashed out with Sky yet, but obviously it?s a natural thing. We know just from the small amount we?ve done with our Premier Calendars on cycling.tv that it?s had an impact on those races. But again, all these things will emerge from these discussions.?
RELATED LINK
Sky team GB set to fly
EXTERNAL LINK
Thank you for reading 20 articles this month* Join now for unlimited access
Enjoy your first month for just £1 / $1 / €1
*Read 5 free articles per month without a subscription
Join now for unlimited access
Try first month for just £1 / $1 / €1