Irish TV show under fire after guests said cyclists were 'like farm animals' and 'equated cyclists to trash'
Dublin Cycling Campaign says The Late Late Show contravened broadcasting code of standards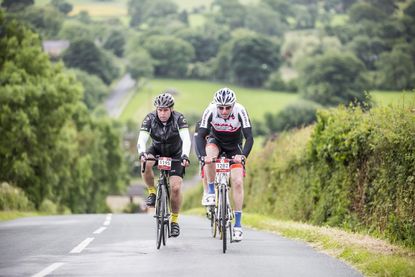 An Irish TV show has been criticised by cycling campaigners for "inciting prejudice or hatred towards people who cycle" after guests equated cyclists to "farm animals".
The Dublin Cycling Campaign has issued a complaint to national broadcaster RTÉ over a segment on the Late Late Show on Friday which it says "contravened the code of standards of the Broadcasting Authority of Ireland".
In the segment, RTÉ presenter Maura Derrane, who was a guest on the show, complained about cyclists "riding three or four abreast", prompting fellow guest James Kavanagh to say "they're like farm animals, sheep or cows or whatever and they don't move, cyclists are like that as well."
>>> Irish police under fire for posting 'deliberately divisive' Twitter poll about cyclists
In its complaint, the Dublin Cycling Campaign criticises host Ryan Tubridy for failing to challenge Derrane's suggestion that cyclists deliberately block vehicles from overtaking and for laughing along with Kavangh's "farm animals" comment.
After his guests have had their say, Tubridy then asks the audience if "cyclists riding two or three abreast" should be "binned", for which he is also criticised due to cycling two abreast being legal in Ireland, while the act of throwing a cycling helmet into a bin was "equating cyclists to trash or something disposable".
In the complaint letter to RTÉ, which it published on social media, the Dublin Cycling Campaign says that the broadcast was in contravention of the Code of Programme Standards of the Broadcasting Authority of Ireland, specifically Principle 5 which states that "programme material shall not stigmatise, support or condone discrimination or incite hatred against persons or groups in society."
>>> Australian national champion shares shocking photos of her injuries after Tour Down Under crash
"We are now calling on RTÉ to admit fault regarding the broadcast of this segment and to issue a full public apology," the Dublin Cycling Campaign continues.
"We also expect the Late Late Show to broadcast a public apology on its next show and counter the misinformation that it broadcast, specifically about the issue of cycling two abreast which is perfectly legal behaviour on Irish roads."
Thank you for reading 20 articles this month* Join now for unlimited access
Enjoy your first month for just £1 / $1 / €1
*Read 5 free articles per month without a subscription
Join now for unlimited access
Try first month for just £1 / $1 / €1