Jack Bobridge and Rohan Dennis neck-and-neck in Hour Record lead-up
Australian Hour Record hopefuls Rohan Dennis and Jack Bobridge have both won a stage and held the race lead in the Tour Down Under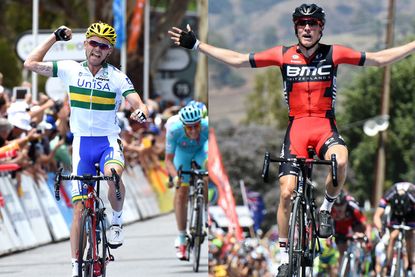 There's barely time for the ink to dry on each Hour Record before the next one is being written right now, but if form at the Tour Down Under is anything to go by, Australians Jack Bobridge or Rohan Dennis could soon set a distance that will stick.
Dennis today took the ochre leader's jersey off the shoulders of his former national track team-mate on the way to winning the third stage of the race. Three days ago, Bobridge claimed the opener in Campbelltown with a similar demonstration of strength and agility.
In another tit-for-tat, at the Australian national time-trial championships earlier this month, both Dennis and Bobridge were on the podium, winning silver and bronze, respectively, behind an in-form Richie Porte.
Despite their history on the track together, including a silver medal in the team pursuit at the London Olympic Games, the men have exchanged few words in the lead-up to their Hour attempts.
>>> Everything you need to know about the Hour Record
Bobridge will be the first to try and better Matthias Brandle's current 51.852km mark in Melbourne next Saturday (January 31st) while Dennis will to travel to Grenchen, Switzerland for a February 8 appointment.
The 24-year-old Dennis, in consultation with BMC team staff, has set a target of 52.5km, which he is confident of meeting, if not surpassing, while Bobridge has remained coy on his specific schedule.
"We'll go in there and see what I can do. Obviously it's going to come down to the conditions in Melbourne, we've seen that it can change pretty quickly, so it will just be wait and see," Bobridge told Cycling Weekly today.
"I had time off after the season and since we've come back everything has been for the Hour Record. I have full belief in [national track endurance coach] Tim Decker, who has put the structure together. He's never failed me before with fitness or with races... and my form is coming up.
>>> Hour Record interactive timeline
"I haven't been on the track all the time but I think the racing I've been doing on the road is going to be good for the Hour Record anyway."
Dennis and Bobridge may be on the same path in the short-term but their long-term outlooks are beginning to differ.
Individual pursuit world record holder Bobridge has aspirations to finally usurp Great Britain in the team pursuit at the 2016 Rio Olympic Games, and it is no coincidence his Hour Record attempt will coincide with Australia's national track titles.
"It fits in well with the Aussie track nationals, bring some life back to that we're hoping," Bobridge said.
Dennis, meanwhile, is almost fully focused on his road career and maybe one day adding his name to the list of Australian Grand Tour winners.
"No offence to track, but it's not going to pay the bills," he said. "I love it, it is fun, but it's something that was a means to an end. It helped me become the rider I am now, which I'm thankful for, but I need to move forward and look toward my road career."
Twitter: @SophieSmith86
Thank you for reading 10 articles this month* Join now for unlimited access
Enjoy your first month for just £1 / $1 / €1
*Read 5 free articles per month without a subscription
Join now for unlimited access
Try first month for just £1 / $1 / €1
Sophie Smith is an Australian journalist, broadcaster and author of Pain & Privilege: Inside Le Tour. She follows the WorldTour circuit, working for British, Australian and US press, and has covered 10 Tours de France.