Jiffy bag saga 'set up to destroy me' says Bradley Wiggins
The 2012 Tour de France winner said the jiffy bag saga "made no sense"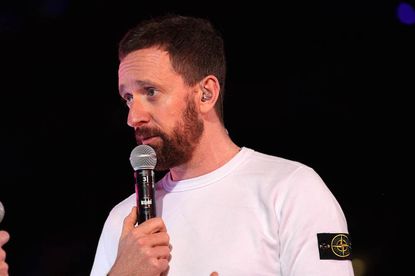 (Image credit: Getty Images)
Bradley Wiggins continues to question Team Sky and the team's record keeping over the Jiffy bag saga that "makes no sense" and were "set up to destroy" him.
The 2012 Tour de France winner spoke with Belgian newspaper Het Laatste Nieuws during a visit to Belgium, where he presented the Crystal Bike award to Victor Campenaerts (Lotto-Soudal).
"It beats me where it came from, the claim that the package was for me makes no sense," Wiggins said of the Jiffy bag package.
The mysterious package was reportedly mailed from British Cycling and Sky's headquarters in Manchester to give to the team on the final day of the 2011 Critérium du Dauphiné.
"I never saw it. What was in it? I wouldn't know. Maybe there was a dildo in it for [Team Sky boss] Dave Brailsford."
Wiggins, now 38 years old, left Team Sky in 2015 after Paris-Roubaix. He retired from cycling at the end of 2016 after a career that includes the 2012 Tour title and five Olympic gold medals and the Hour Record.
During Parliament's select committee and UK Anti-Doping's investigations, few details emerged on the package. The committee's report criticised "poor record keeping and poor medicines policies" within British Cycling and Team Sky.
Former British Cycling and Team Sky doctor, Richard Freeman was widely criticised for failing to keep proper medical records that could have shown what was in the package delivered to him. He claimed that his laptop containing his records was stolen while he was on holiday in Greece.
"Sky is the largest team in the world," said Wiggins. "I hear that now they have a WhatsApp group. As the riders leave the table, they note everything that is left. Every day. They weigh the rice that is still on the table, the pasta. 'Okay, the riders have 600 grams of rice and 400 gram of pasta.'
"They calculate how many calories they haven't eaten. They put that on WhatsApp. But if they do that, then why is not possible to have something like a simple document for a package from Manchester sent to the Dauphiné? Just a piece of paper: this was in the package, DHL has it sent, here it is signed off.
"Why did they have to lie about that? If they had it, I could have just continued with my life."
The Daily Mail published several stories at that time. Wiggins said the journalist is in "deep trouble" now for the pieces.
The Jiffy bag story came on the heels of the TUE leak in 2016.
The TUEs for a powerful corticosteroid drug were leaked to the surface by Russian hacker group Fancy Bears. Team Sky's request for a medical certificate to use triamcinolone came before Wiggins's big appointments: the 2011 and 2012 Tours, and 2013 Giro d'Italia.
The TUE and Jiffy bag stories led to the select committee investigation and eventual report.
"There was no research. They had one witness. Someone with a motive. They took the word of that witness for truth. It was all set up to destroy me," Wiggins added.
"There are now questions about the Parliamentary inquiry committee. They have admitted that their report is based on that one witnesses. The last word about it has not yet been said."
Thank you for reading 5 articles this month* Join now for unlimited access
Enjoy your first month for just £1 / $1 / €1
*Read 5 free articles per month without a subscription
Join now for unlimited access
Try first month for just £1 / $1 / €1