KENNAUGH AND BLYTHE WIN IN GHENT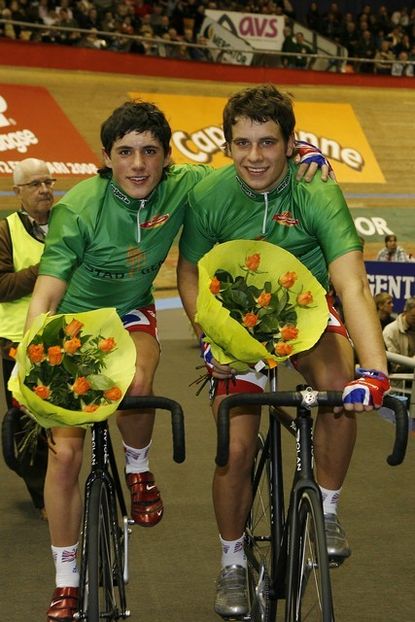 (Image credit: LUC CLAESSEN)
Bradley Wiggins and Mark Cavendish finished a disappointing tenth overall in the Ghent six on Sunday afternoon but Peter Kennaugh and Adam Blythe impressed the huge crowd by winning the supporting Under 25 UIV event.
At only 18 and riding their first full six-day event, the two Brits were the youngest riders in the race but thanks to some valuable advise from Olympic Academy coach Ellingworth, they improved their technique and tactics day after day to come out on top. The two Brits finished third in the final day?s Madison but carefully controlled Czech rivals Pavel Subrt and Marek Mixa to win by 30 points.
Local hero Iljo Keisse and Germany?s Roberto Bartko snatched overall victory in the six-day, taking a decisive lap in the final madison. They were just a point ahead of Bruno Risi and Franco Marvulli before the event but went on the attack in the final 15 laps and cracked the Swiss pair. Robert Slippens and Danny Stam finished third at one lap and 317 points.
Britain?s Bradley Wiggins and Mark Cavendish finished tenth overall with 172 points and 46 laps behind. Race organizer Patrick Sercu was not impressed with Cavendish?s performance but the young Brit improved day by day and will hopefully now have some kind of form when he teams up with Wiggins and the Great Britain team as they chase Olympic qualification in the Sydney World Cup.
Bradley Wiggins in action behind the derny
RELATED LINKS
Click here to see a gallery of photos from the final two nights of the Ghent Six-Day
Click here to see a full gallery of photos from day three of the Ghent Six-Day
CW's Dummies' Guide to the Ghent Six-Day
Wiggins and Cavendish finding form in Ghent
Thank you for reading 20 articles this month* Join now for unlimited access
Enjoy your first month for just £1 / $1 / €1
*Read 5 free articles per month without a subscription
Join now for unlimited access
Try first month for just £1 / $1 / €1