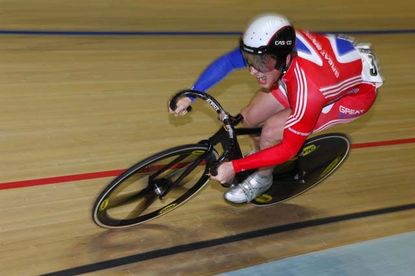 Click here to view a full gallery of photos from Revolution 19
Bolton's Jason Kenny stole the glory from the biggest sprint names in the world at Revolution 19 on Saturday.
The triple world junior champion was not expecting to ride earlier this week but went to Manchester for the experience.
And he came away having beaten Dutch stars Theo Bos, Tuen Mulder and Tim Veldt into the bargain, taking the 200m Ominum Time Trial in 10.178secs and the overall Omnium Sprint with two victories out of three.
The 100 Per Cent ME team also had a good night by taking the top two places in the men's 10km Points Race, with Ben Swift winning, and also a clean sweep, lead by victor Steven Burke, in the 15km Scratch Race.
Lizzie Armistead got the first win for the new Halfords Bikehut team at Revolution when she took the Devil, adding to her success with the 8km Points Race and a third in the 6km Scratch Race, won by team-mate Jo Rowsell.
More on the Revolution meeting at Manchester in this week?s Cycling Weekly.
Jason Kenny and Jamie Staff
Mark Cavendish
Click here to view a full gallery of photos from Revolution 19
Thank you for reading 20 articles this month* Join now for unlimited access
Enjoy your first month for just £1 / $1 / €1
*Read 5 free articles per month without a subscription
Join now for unlimited access
Try first month for just £1 / $1 / €1