Landis contemplates Tour de France return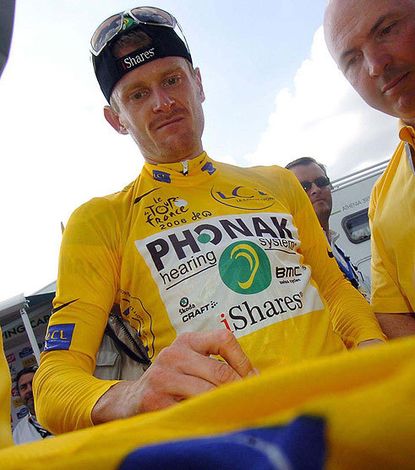 Floyd Landis has stated that he is contemplating a return to the Tour de France in 2010. The American rider won the event in 2006 but was subsequently stripped of the title when he tested positive for synthetic testosterone during the race.
During an interview with the Reuters news agency published today, Landis said "I will take a few weeks of peace and quiet to assess what I want to do with the next years of my life.
"If I went back to the Tour de France the objective would be to win it again. And the objective would be for the resulting win to give me some time to enjoy it rather than the way it played out last time."
Landis has always denied that he took performance enhancing substances, and has been fighting the test result and his subsequent ban from competition ever since.
When his suspension from competition expired, the US-based Ouch squad signed Landis for the 2009 season. He then found himself riding alongside former US Postal team-mate Lance Armstrong (Astana) at the Tour of California. Whilst the media scrum enveloped Armstrong, you could be forgiven for not realising that Landis was at the event.
But Landis has seen Armstrong's successful comeback from retirement and obviously wants a piece of the action for himself.
If the 33-year-old does seriously want a return to top-level competition at the Tour de France there are several skyscraper-sized hurdles to overcome first. The largest being whether Tour organisers would even allow him back into the event, which is highly doubtful.
And then there's the issue of whether he can get signed to a major team that gets selected for the event - again, doubtful given his high-profile positive drug test and the subsequent implosion of his 2006 team, Phonak as a result.
Finally, there's whether he can get fit enough to be competitive at the Tour, particularly given he has suffered on-going degenerative problems with his hips.
It's one thing to want to ride the Tour; it's another for the Tour to want you to ride it.
RELATED LINKS
Landis appeal verdict on Tour due
July 28, 2006 - Landis claims he has naturally high testosterone levels
July 27, 2006 - Landis suspended following positive test
July 26, 2006 - UCI announce failed test at Tour de France
Thank you for reading 5 articles this month* Join now for unlimited access
Enjoy your first month for just £1 / $1 / €1
*Read 5 free articles per month without a subscription
Join now for unlimited access
Try first month for just £1 / $1 / €1