Laura Trott puts GB team pursuit disaster to rest as she wins Track Worlds scratch gold
Double Olympic Champion Laura Trott puts GB's poor team pursuit qualification performance behind her to brilliantly win the scratch world world title.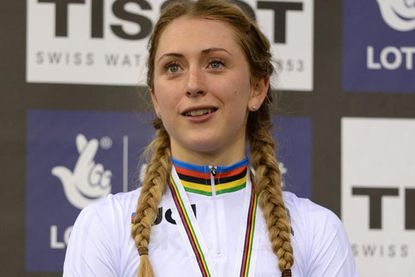 (Image credit: Andy Jones)
Laura Trott won Great Britain's first, and only gold medal of the London Track World Championships thus far on Thursday, putting the disappointment of the team pursuit qualifying round earlier in the day behind her to win the scratch race.
The rainbow jersey is Trott's sixth in total, and first in an individual event in four years, something that she said "means a lot to me". Despite the scratch race not being an Olympic discipline, it does feature in the omnium, an event that begins on Saturday and in which Trott won gold at London 2012.
>>> Track World Championships 2016: Latest news, reports, info and more
"I'm just so happy," she said. "I can't thank Paul Manning [GB endurance coach] enough for the work that he's put in for me in the bunch races in particular the scratch race. I know it's not an Olympic event but it means a lot to me.
"Last year in Paris [at the 2015 Worlds] that was the event in the omnium that let me down. We've worked so hard on it over the last 10 to 12 months. I'm just so happy that it's finally paying off and I've finally got that confidence I need to go into that omnium tomorrow."
Just hours before on Thursday afternoon, Trott was part of a team pursuit quartet that finished a disappointing fifth, meaning at best they can contest a bronze medal.
"The thing is with the team pursuit unless you race on your limit you don't know what your limit is, and I guess it was disappointing that we found what the limit is at a World Championships," Trott said. "But it's not over until it's over.
"We can still race for the bronze medal, we can still put out a decent time — I just had to put it to the back of my mind [in the scratch]."
Thank you for reading 10 articles this month* Join now for unlimited access
Enjoy your first month for just £1 / $1 / €1
*Read 5 free articles per month without a subscription
Join now for unlimited access
Try first month for just £1 / $1 / €1