Lewis Oliva has unique carbon-fibre cycling shoes stolen in Cardiff car theft
Welsh track sprinter Lewis Oliva's unique carbon-fibre cycling shoes stolen in car break-in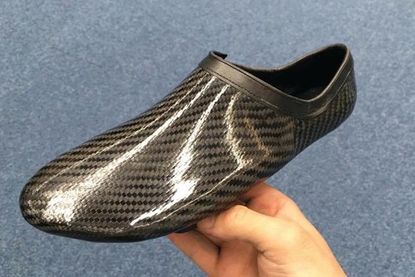 (Image credit: Ciara Horne)
Track sprinter Lewis Oliva has had his unique carbon-fibre cycling shoes stolen by a thief who broke into a car on Tuesday in Cardiff.
Fellow track cyclist Ciara Horne tweeted that the shoes had been taken from her car after it had been broken into while she was visiting University Hospital of Wales in Cardiff.
The shoes were in a bag removed by the thief.
Horne later uploaded a photograph of the minimalist shoes, asking for people to keep an eye out for them for sale online.
The shoes are moulded to Oliva's feet and highly unlikely to be of any use to anyone else.
http://www.youtube.com/watch?v=HZxkSAyesUE
Twitter user Jon Antoniazzi later posted a photograph of a car with smashed side window, which he said he'd witnessed being broken into and that he had reported the incident to police.
Oliva later confirmed that it was the car that contained his bag and shoes.
"I gave description to Police," wrote Antoniazzi. "He was loitering around your car on his phone when I was going to mine. By the time I sat in the car, the alarm was going off and he was jogging down the street."
Riding for Team Wales, 25-year-old Oliva has been contesting the sprint disciplines at the 2017-18 UCI World Cup series. He is the current keirin British national champion.
Thank you for reading 20 articles this month* Join now for unlimited access
Enjoy your first month for just £1 / $1 / €1
*Read 5 free articles per month without a subscription
Join now for unlimited access
Try first month for just £1 / $1 / €1