'Like a game of Frogger': your verdicts on the new Team Sky kit
Some of you didn't mind it...some of you really hated it and some of you just didn't care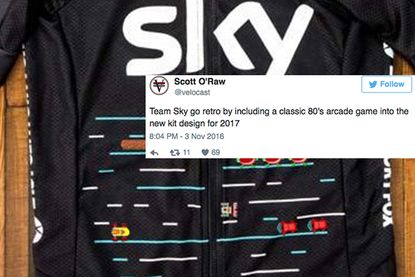 Is there anything more anti-climatic than a kit launch? The prospect of seeing a team's new design send your imagination running; maybe they'll completely change the colour, maybe just maybe, it'll be everything you want to see in a pro kit? But then you realise - it's just vaguely different to last year's.
>>> 'Team Sky has a €35m budget, it's complicated to compete with that'
Nevertheless there was a buzz around the Team Sky kit launch last night, with many of you voicing your opinion one way or another. And no matter what kind of marketing spin Castelli can put on it, it's the people's voice that matters.
So here's the best of your internet based comments on Sky's new rags. Some of you hated it, some of you sort of liked it and some of you just downright couldn't care less.
The people who thought it looked like and arcade game
The people who thought it looked like an aerial view of a motorway
Some people actually did like it
And others definitely didn't...
A damp squib squid..?
Channelling Clarkson
The anti-Murdochs
And the Morse code people
Thank you for reading 5 articles this month* Join now for unlimited access
Enjoy your first month for just £1 / $1 / €1
*Read 5 free articles per month without a subscription
Join now for unlimited access
Try first month for just £1 / $1 / €1