Lizzie Armitstead 'gutted' with women's road race result
Great Britain's Lizzie Armitstead reflects on a key decision and bemoans a tactically negative race, won by Pauline Ferrand-Prevot (France)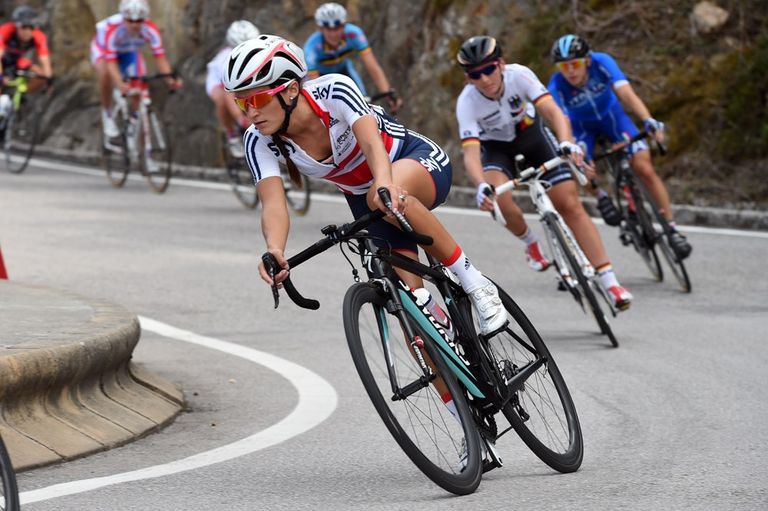 (Image credit: Graham Watson)
Lizzie Armitstead was going over what might have been in the women's road race, and a decision in the final few hundred metres of the race that ultimately cost her a rainbow jersey at the 2014 world championships.
Over the crest of the final climb in Ponferrada, Armitstead found herself in a four rider group with defending champion Marianne Vos (Netherlands), Emma Johansson (Sweden) and Elisa Longo Borghini (Italy).
However inside the final flat kilometre, none of the riders were willing to work and lead their small group to the line. They were caught by a chasing pack with 600m to go and Pauline Ferrand-Prevot (France) won the sprint for gold.
"I'd do everything different now if I had the chance again," Armitstead said at the finish.
"It was my plan to commit to that [four rider] move and I did that and then you have to kind of, with 500m to go, re-group and switch just like that."
Armitstead found the wheel of Giorgia Bronzini (Italy) once the groups had coalesced, however could only managed seventh in the final dash.
"In hindsight, perhaps if I was feeling like I was for the sprint, which was always going to be hectic at that point, then I probably should have tried to hit them," Armitstead said.
"But I really feel like everyone was watching me and kind of marking me out a bit, which was always going to be difficult."
In truth, Armitstead was faced with an almost impossible decision; lead the break to the line and very probably come third or fourth, or wait and run the risk of the bunch catching back on.
She urged on her breakaway companions but no response came.
"I understand with Elisa [Longo Borghini], she was never going to win from that group so she was better off waiting for Georgia [Bronzini]," Armitstead added.
"Marianne, I don't know why she didn't work, and Emma Johansson, for sure I don't know why she didn't work. She's got another silver medal [Johansson was awarded bronze], maybe she likes them, I don't know."
Indeed Armitstead bemoaned a tactically negative race in general, where no riders or teams took the race by the scruff of the neck until the final 10 kilometres.
Her British teammate and first year senior Anna Christian rode out of her skin to pepper the field with attacks on the penultimate lap under instruction from her team leader, but it took until the final climb for the key selection to be made.
Equally Marianne Vos was far from her usual self; she was rarely seen at the head of affairs and Armitstead noted she had no problem shadowing any of the Dutchwoman's surges in pace.
Even the rain, which began to fall in the final hour of racing, failed to spice things up.
"I was like, 'nice one, lets go,'" Armitstead said of when the spots began to fall. "But again nobody took it on, and as an individual in that race you cant really make it harder.
"I'm gutted, I'm really gutted," she added.
"I'm sure there will be plenty of people telling me what I could have done differently, but I'll just have to keep learning."
Credit: Andy Jones
"I think we've got the best of what we've got at the moment," says Commonwealth Games champion
Pauline Ferrand Prevot takes women's road race World Championships win as Lizzie Armitstead and Marianne Vos cancel each other out
Lizzie Armitstead comes home in second in Belgium to keep World Cup series lead