MALORI WINS WORLD CHAMPS MEN'S U-23 TIME TRIAL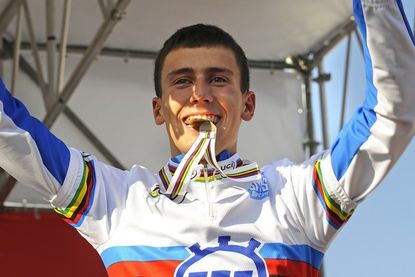 Under-23 men's time trial photos>>
Italy started the world road race championships on home turf with a world title on Tuesday, with Adriano Malori taking the men?s under 23 time trial by a huge margin.
Malori is only 20 but is the current European time trial champion and finished fifth in last year?s world championships. A year older and clearly stronger, he blasted round the tough 33.5km course in the hills north of Varese to win by 49 seconds.
Germany?s Patrick Gretsch was second despite crashing in the final kilometres, and Australia?s Cameron Meyer was third after setting the fastest time or most of the day.
British riders Russell Hampton and Alex Dowsett both finished outside the top 30. Hampton was 33rd at 2-48, while a very disappointed Dowsett was 36th at 2-59. Both seemed to lack speed on the demanding climbs and Dowsett openly admitted he had a bad day.
Malori was clearly the strongest rider in the time trial and used his strength and power to push a huge 55x11 gear on the long descent in the second half of the course. He set the fast time at each of the three splits and had the advantage of starting last in much drier conditions after morning rain.
?I?ve always pushed big gears but it was really important on the descent. I was pushing 55x11 way on the descent and I think it meant I gained a lot of time,? Malori said.
?It?s difficult to understand what happening when you win the world title on home roads. It?s almost difficult to describe how I feel.?
?It was a huge advantage that the roads were drying out when I set off. The fact that the sun came out at two o?clock was a sign that things were going to go my way. Thing have to come together if you want to win.?
Malori claimed he did not grow up with a professional rider as a role model but admitted that Lance Armstrong often inspired him. His rainbow jersey will probably secure him a contract with a professional team but he refused to be say what he hoped to achieve as a professional. However he was optimistic for the future of the sport.
?I don?t know what kind of rider I can be in the future and don?t want to try and say because too many riders have lost it after being successful amateurs. I?m focusing on the present at the moment. Obviously I hope cycling will get better in the future. I?m an amateur don?t know what?s it like on the other side but I think things are improving and cycling will be even better in the future.?
MEYER HAPPY WITH BRONZE
Australia?s Cameron Meyer spent a long time in the so-called ?hot seat? as he waited for the other riders to try and beat his time of 42-40. He eventually slipped to third but was satisfied to be the first Australian since Michaell Rogers in 2000 to win a medal in this category.
?It?s very hard to get a medal at the world championships. I was excited about racing here, it was very hard circuit and to get on podium made me really happy.?
?I was nervous sitting in first position for so long. I was hoping not to finish fourth because I?ve been fourth in the last two track world championships and at the Olympics.?
?Michael Rogers is a role model for me and I?d love to follow in his foot steps and go on to do well in time trials and major stage races.?
WORLD CHAMPIONSHIPS 2008: UNDER-23 MEN TIME TRIAL RESULTS
1. Adriano Malori (italy) 33.5km in 41mins 35secs
2. Patrick Gretsch (Germany) at 49secs
3. Cameron Meyer (Australia) at 1min 04secs
4. Marcel Wyss (Switzerland) at 1min 11secs
5. Stefano Borchi (Italy) at 1min 24secs
6. Peter Stetina (USA) at 1min 24secs
7. Kristjan Koren (Slovenia) at 1min 24secs
8. Rui Costa (Portugal) at 1min 26 secs
9. Andreas Henig (Germany) at 1min 32secs
10. Artem Ivechkin (Russia) at 1min 37secs
British
33. Russell Hampton (Great Britain) at 2mins 48secs
36. Alex Dowsett (Great Britain) at 2mins 59secs.
Adriano Malori on his way to a World Championship win
Malori can't believe it
Photos by Luc Claessen
WHAT IS THE COURSE LIKE?
English version of the official Varese 2008 site has maps, profiles and loads of other info
WHERE ARE THE START LISTS?
UCI site will have the start lists
Swipe to scroll horizontally
ROAD WORLD CHAMPIONSHIPS 2008
NEWS
British team heads to Varese with genuine medal hopes
Cancellara to miss World Championships
Swift a close second in final race before Worlds
Rob Hayles on why he's not riding the Worlds
GB Women's Worlds team confirmed
British Worlds team starts to take shape
Geraint Thomas called up to Worlds team to replace Cavendish
Mark Cavendish pulls out of Worlds team
RACE REPORTS
PHOTOS
Cycling Weekly photo gallery
2007 World Champs: Men's road race
2007 World Champs: Women's road race
2008 WORLD CHAMPS GUIDE
Preview>>
TV coverage guide>>
Brits in the men's world road race 1998-2007>>
Brits in the women's world road race 1998-2007>>
Brits in the under-23 world road race 1998-2007>>
Britain's road world championships medal winners>>
Thank you for reading 20 articles this month* Join now for unlimited access
Enjoy your first month for just £1 / $1 / €1
*Read 5 free articles per month without a subscription
Join now for unlimited access
Try first month for just £1 / $1 / €1