Man filmed pushing cyclist from moving car in Facebook 'challenge'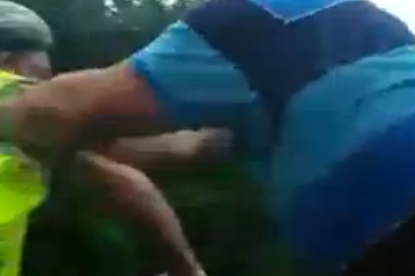 A video of a man pushing a cyclist off their bike from a moving car has gone viral on Facebook, with the original poster stating "this is the new challenge".
The seven-second video shows a passenger in the car leaning out of the window as it approaches a cyclist before pushing the rider with both hands into a ditch at the side of the road.
Other people in the car can be heard laughing as the rider hits the ground.
The video was posted by Eoin Maughan on Saturday evening and has already been viewed nearly 650,000 times, attracting over 5,000 likes and 7,000 shares, but Maughan reportedly claims the video is not his.
Many of the 1,100 commenters on the video have reacted angrily, pointing out that the perpetrators could have caused the cyclist serious injury.
But more worryingly, hundreds of Facebook users have tagged their friends in the comments section saying that they should take up the challenge of pushing a cyclist over.
The video has now been removed from the social media site.
>>> Police hunt London teens who pushed cyclist into canal
With recent Facebook 'challenges' such as 'Neknominate' and the 'Ice Bucket Challenge' going viral within days, it is certainly a worrying development, with both crazes resulting in deaths of participants.
Thank you for reading 20 articles this month* Join now for unlimited access
Enjoy your first month for just £1 / $1 / €1
*Read 5 free articles per month without a subscription
Join now for unlimited access
Try first month for just £1 / $1 / €1