Marie Purvis: British Legend
In 1993 Marie Purvis became the first British rider to win a stage of the Tour de France Féminin in its modern format. She won another stage in 1995, and her palmarès include five national titles. That becomes more impressive when you consider Marie Morgan, as she's now known, only began racing aged 26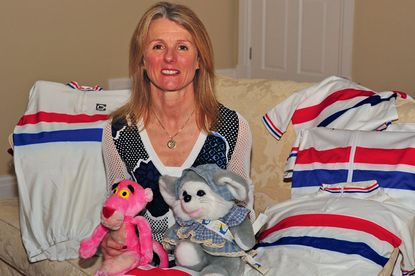 Being hit by a car and suffering a broken jaw just a few weeks after taking up cycle racing would convince many riders to give up the sport for good.
Thankfully, Marie Purvis persevered and within a few years was racing in the Olympics, World Championships, Commonwealth Games and women's Tour de France.
Purvis (now Morgan) lives with her husband David in the small village of Braaid in the Isle of Man. As you drive up to their home there's an obvious clue to Morgan's career highlight. The name of the house is Vaujany, the town where she won her first Tour de France Féminin stage. But she didn't even dream about such achievements when she started cycling.
"When my family moved to the Isle of Man in 1972, I took up running at school and won Isle of Man titles and set age group records in middle-distance track races and cross-country," Morgan says. "I used to cycle to school sometimes, but I never raced as a child."
A top-15 finish in the English Schools National Cross-Country Championships gives an indication of her athletic ability at the time. However, at the age of 19 Morgan suffered a serious calf injury and gave up competitive sport altogether.
By 1987, Morgan says she was unfit and had put on weight (although she still only tipped the scales at nine stone) and was working at Ramsey Crookall, an investment and stockbroking firm where she still works today. She was then married to John Purvis who had represented the Isle of Man in cycling and finished fourth in the 1978 Commonwealth Games road race.
The Isle's cycling scene
"John had a spare bike in the garage so I decided to cycle just to get fit," Morgan explains. "I remember wanting to ride the 11 miles from Douglas to Peel and feeling that I would never be able to do it." However, she did make it and was soon drawn into the island's vibrant racing scene.
The broken jaw she suffered in one of her the first time trials didn't put Morgan off, and in 1988 she broke the Isle of Man women's 10-mile time trial record, which had been held by Jackie Kennaugh (mother of Team Sky's Peter). Morgan broke her own record a few weeks later.
"I began doing local time trials and road races and then went to the UK to race," says Morgan. "The Isle of Man Cycling Association saw I had potential, and said if I got three top six finishes in the Jo Bruton Series in 1989, then I would be selected for the 1990 Commonwealth Games in New Zealand."
Morgan delivered the results, finishing third in the Jo Bruton Series to book her ticket to Auckland. However, the step up to Commonwealth standard came as a shock. "It was a completely different level for me, I think I was dropped on the second lap," Morgan recalls. "I was absolutely gutted and in tears after the race. But it also gave me something to aim at and motivated me to work even harder towards progressing at international level."
The Games that year were in February, and she quickly bounced back from her disappointment, ending the season with her first national road race title and a victory in the Jo Bruton Series.
Morgan's reaction to adversity and failure is a constant theme which emerges during the interview. Whether it's her response to injury or a poor result in a race she expected to win, the response is always the same: learn from it, and come back stronger.
Morgan also found that racing and training against men was a big help in improving her fitness. In 1994 she became the first woman to win the Willaston Handicap (a race run as part of Isle of Man International Week) in the 40-year history of the race.
Her rapid progress continued with selections for Team GB, and in 1993 she won a place on a composite team for the Tour de France Féminin, becoming the first British rider to win a stage of the race, which had first been run in 1984.
There was a women's Tour de France held in 1955; the first British rider to win a stage of that race was June Thackeray, and a few days later Millie Robinson (who also lived in the Isle of Man) won two stages and the general classification. But Morgan's stage win in 1993 was a landmark victory for women's racing in Britain.
Career high
"It was an 80km mountain stage with lots of attacks," Morgan says. "There was a lull in the race in the valley before the last climb and I attacked and two others came with me. As soon as we got on the climb I knew I was the strongest and just rode the climb at my own pace until I was clear.
"I wasn't getting time checks so I wasn't sure of the gap I had. I didn't dare look round to see if anyone was closing until I was in the finishing straight. It was very satisfying to win and definitely the high point of my career."
Morgan won another Tour Féminin stage in 1995. But for all of her victories, ask any cycling fan about her career and there will probably be as many who recall the bad luck she suffered at the Barcelona Olympics and 1994 Commonwealth Games, as there will be those who remember the national titles and stage wins.
Bad luck strikes
Morgan's 1992 season went well before the Olympics. She was coached by her then husband John Purvis and pro rider Brian Smith, who was living on the Isle of Man and accompanied her on some tough training rides.
Morgan won the Women's Cycle Racing Association road race title, the National 25-mile TT, the Isle of Man International Week 25-mile TT and the British National Road Race for the third year running. The Queen of the Mountains prize at the Tour of Finistèrre in France two weeks before the Olympics began showed that she was in great form.
In the Olympic Road Race, Morgan attacked with a lap and a half to go and was joined by Italy's Maria Paola Turcutto. But with a 20-second lead as they began the final 10-mile lap, Morgan's front tyre punctured. A mix-up in the pits resulted in her being given a spare bike instead of changing the front wheel on the one she was riding.
To make matters worse, the spare bike was handed to her with the chain on the 53x13. It cost her vital seconds and any chance of a medal. Australia's Kathryn Watt attacked from the bunch, passed the two escapees, and rode solo to the gold medal. Morgan finished 24th — the first British rider home, but she was in tears wondering what might have been. More than 20 years on, Morgan has still never watched a video of the race.
Fast-forward two years to the Commonwealth Games in Canada and lightning was about to strike again. This time it was a slipped chain which jammed, forcing Morgan to stop to free it. She rode strongly to still finish fourth and in the circumstances, that was a good result, but once again a medal had eluded her.
"I wasn't the strongest rider at the Barcelona Olympics," she says. "I took a chance and it almost paid off, but I can't say that I would definitely have got a medal if I hadn't punctured. In the 1994 Commonwealth Games I think I would definitely have got a medal if I hadn't suffered a mechanical problem, but that's just one of those things and part of bike racing."
Cycling ambassador
Morgan returned to the Olympics in Atlanta in 1996, finishing 11th in the road race. She retired at the end of the 1996 season after riding in the World Championships Road Race.
Sporting success didn't end there though.
In 2001 Morgan won the half-marathon gold medal at the Island Games, a multisport competition for small island nations. These days she rides for fun and to keep fit. In the year of her 50th birthday she rode the Manx Telecom End2End MTB Challenge, a 46-mile race across the length of the Isle of Man, leaving many younger riders in her wake.
She is now a Team Isle of Man Commonwealth Games Ambassador, helping the national squad raise funds for Glasgow 2014, and passing on her experience to those preparing for the Games this summer. For determination and never say die spirit, there could be no better example to follow.
Race against the clock - Purvis powers to Hour record
Early in 1995, at the Manchester Velodrome, Marie Purvis, now Morgan, jumped onto a track bike for the first time. On March 10 that year, at the same venue, she broke the British Hour record, covering 43.492km. This added more than 2km to the previous best, set by Mandy Jones in 1981.
Morgan was coached by the legendary Peter Keen and also had the benefit of working with the embryonic World Class Performance Plan team.
"Psychologically it was one of the hardest things I've ever done," Morgan explains. "The target was 46km, but after a few laps I was dropping below that pace, to the point where Peter stopped giving me time checks.
"In training, I'd never done more than 30 minutes in the aero position I used for the record.
"After the record ride I remember sitting on the floor to do some stretching and then having to be helped to stand, because my legs had just completely seized up."
Queen of the title races - Attacking spirit
Marie Morgan won the first of five national BCF road race titles in 1990. A few weeks before she was also crowned Women's Cycle Racing Association road race champion. To most riders, the BCF title was the more prestigious, but for Morgan the value of any victory was often more about how it was won.
"The WCRA championships were on a tough circuit around Holmfirth and it was a really hard race where I'd had to make several attacks to win," she says. "The Nationals that year were on an easier course on the south coast and it was a very negative race tactically which ended in a bunch sprint.
"To me, the WCRA was the most satisfying in many ways because it had been a harder race to win. Of course, I was delighted to win the Nationals, but as was often the case during my career I felt a greater sense of achievement from winning races on hard circuits, or when there had been lots of attacks."
Career achievements - Palmarès
- Two stage wins in Tour de France Féminin (1993, 1995)
- Sixth in the general classification in 1993 Tour de France Féminin
- Five national road race titles (1990-93, 1995)
- Three Women's Cycle Racing Association RR titles (1990, 1992, 1993)
- Winner 1992 National 10-mile TT
- Winner 1992 National 25-mile TT
- Winner 1993 Isle of Man International Week 25-mile TT (broke record held by Beryl Burton)
- Triple winner of Jo Bruton Series (1990, 1992, 1993)
- Fourth in Commonwealth Games road race in 1994
- Competed at two Olympics (Barcelona and Atlanta)
- Competed at four World Road Championships
Thank you for reading 10 articles this month* Join now for unlimited access
Enjoy your first month for just £1 / $1 / €1
*Read 5 free articles per month without a subscription
Join now for unlimited access
Try first month for just £1 / $1 / €1
Founded in 1891, Cycling Weekly and its team of expert journalists brings cyclists in-depth reviews, extensive coverage of both professional and domestic racing, as well as fitness advice and 'brew a cuppa and put your feet up' features. Cycling Weekly serves its audience across a range of platforms, from good old-fashioned print to online journalism, and video.