Mark Cavendish: Exclusive interview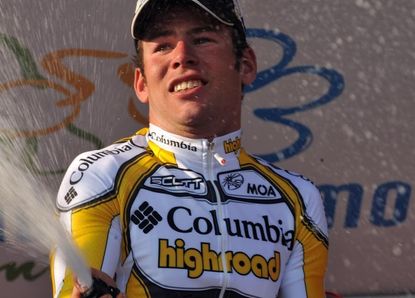 Get The Leadout Newsletter
The latest race content, interviews, features, reviews and expert buying guides, direct to your inbox!
Thank you for signing up to The Pick. You will receive a verification email shortly.
There was a problem. Please refresh the page and try again.
The full version of this interview appeared in Cycle Sport June 2009 issue

As Heinrich Haussler sensed the shadow on his left shoulder, he must have known instinctively who it was.
Only one man could have produced such an explosive jump to draw level so late. He didn't need to see the yellow, white and black flashes of the Columbia jersey to know it was Mark Cavendish, and by the time he sensed the shadow, he also would have known it was too late.
Haussler let out a strangled cry as he crossed the line. "Uuurrrghh." It was the cry of a man who had reached out to claim greatness only to be stung by its scorching heat, before withdrawing his hand in shock, and then instantly wishing he'd been able to hold on to it.
Haussler knew Cavendish had won. Cavendish knew he'd won. As Haussler's shoulders slumped, Cavendish threw his arms in the air. Before he'd even come to a halt, he was in tears. The pent-up emotion of a life-changing victory, mixed with the extreme release of aggression and adrenaline he'd needed to get to the line first, came spilling out of him. Tears of joy, relief, exhaustion, vindication, even. Point proven.
"It was a desperation sprint, that line was coming up so fast, but I knew I'd got it. I was going absolutely full gas. I never sprint full gas, except at the Tour de France, but I was giving it everything. You can tell because of how low I am. My chin is almost on the stem.
"It might look close on TV, but you know. When Bennati beat me by a centimetre and a half at the Giro, I knew I'd lost." Cavendish is smiling at the memory. Whether he's thinking of the spring sunshine which dappled San Remo that afternoon, or basking in the moment of glory is doubtful. Cavendish deals in wins and losses. Sometimes, the way he talks gives the impression that his mind contains a huge chalkboard on which he's constantly keeping score. Won that one, won that. Lost that. Won that. Three-one to me.
Cavendish hasn't lost many. He's worked out that he wins one in every seven road races he starts. Before Milan-San Remo, Cavendish was going out of his way to put his chances into perspective. For once, he did not take umbrage at the suggestion that a race was too long, or too hilly, or that he was too young. Instead, he let people get on with it. It must have taken some willpower not to bite, because if there's something Cavendish dislikes, it's people making assumptions about him.
To be fair, he wasn't sure whether he could win it this season, but it was very definitely part of the picture when he sat down to plan his objectives late last year. So when the media came to draw up their list of favourites, Cavendish was actually happy to have a question mark over him. It was all part of a game plan that relied on a bit of old-fashioned kidology. Mind games.
"Everything I did and said was designed to make people think I couldn't be there at the finish," he says, explaining his strategy. "I wasn't sure I could win it this year. I knew I could win Milan-San Remo at some point in my career, but it took Mario Cipollini 13 years. It could have taken me 13 years.
"People think I can't climb. Tom Boonen said I couldn't get over a railway bridge. I wanted them to keep thinking that. I needed them to keep thinking that."
Last winter, Cavendish lost weight, and by March he was already at 69 kilograms, the weight he was during last year's Tour de France. He knew he had to be lighter, but he didn't know if the old assumption that a little bit of power would drop off with the weight held any truth.
Then came the cunning bit. "In Eroica, I made sure I got dropped with a few team-mates around me, and I made sure it was on TV. I knew people would look at it and say 'Well, he's not going to win Milan-San Remo climbing like that.'"
Journalists in Italy actually remarked on how well Cavendish was climbing at the Eroica, though. "I was climbing well," he says. "Really well, but most people just look at the results. They go 'Oh he lost six minutes so he must be going shit'. But the results don't tell you everything."
Tirreno-Adriatico, the week-long stage race before Milan-San Remo, is where the favourites like to prepare, but Cavendish was playing more mind games. "On the first day I really did have a mechanical," he protests. Just as they were approaching the climb near the end of the stage, his chain jammed, jumping off the jockey wheels under the rear mech and coming out of the cage which is supposed to keep it in place.
"I had to change bikes," he says. "I don't lose it anymore when I have a mechanical problem, I just accept it, but that day it worked out for me. On the climb I was actually coming past people, but no one saw that, so they just see I was seven minutes down."
On the second stage, Cavendish was detached on the final hill and lost two minutes. Then he put his nose into the wind and was beaten. "I'd never sprinted full gas against Petacchi before, so when he went with 300 metres to go I thought 'Is this when he goes? Perhaps I'd better go now.'" It was too far out. Petacchi faded to finish 13th, Cavendish was passed on the line by Garmin's Tyler Farrar, more evidence for those thinking Milan-San Remo would be beyond him.
The longest stage of the race, the 235 kilometres to Camerino, proved to Cavendish he was in good condition. "Look at the results and I'm in the grupetto, but I felt strong that day. I hung on a lot longer than I used too, because I'm stronger." Then he sat back and waited for the back group to catch him. The final day proved that he was the fastest sprinter. "I wanted them to know that if I made it to the finish in San Remo, I'd win."
CAVENDISH'S POKER FACE
Mind games continued in the press, as Cavendish played down his chances, and batted away questions about his surprise return to the track. Having said the velodrome held nothing for him after the disappointment of the Madison in Beijing, he'd realised he still wanted to race on the track because it was part of what made him the bike rider he is.
Asked in February about his objectives for the spring, he pinpointed Ghent-Wevelgem as the one he wanted to win, dismissing Milan-San Remo as being too soon. He was going there to learn the race. "I said I wanted to win Milan-San Remo in my career, and I thought I probably could win it, but I wasn't sure if I could do it this year."
But he dismisses the idea that he was trying to keep the pressure off. "There's always pressure. The pressure I put on myself is the worst. The team never put pressure on me. They don't tell me I've got to win this set of races. Before San Remo they were telling me it was no big deal.
"It was all about making my rivals dismiss me as a big threat. If they thought I couldn't get to the finish, the race would go a certain way, and it would go a little bit in my favour."
You don't go to check out the final 120 kilometres of a race course looking for the precise place where you'll get dropped, or the most convenient spot to climb off. Cavendish and four-time Milan-San Remo winner Erik Zabel, who is working for the Columbia team now, did a two-day visit, riding the climbs several times on the first day, then riding the final 120-kilometre stretch the next.
La Manie, the climb added last year, immediately scared Cavendish. "First time I rode it I thought 'This is a proper climb'. I'm not sure I'm going to get over it. It was hard, man. Erik said it would be easier in a bunch, but I wasn't so sure.
As Cavendish checked out the course, the more he realised it was going to be about La Manie. That climb would determine everything. Zabel passed on his experience, showed him where to go harder and where to save energy. Positioning on the climbs would be crucial but, even if the pace was high, there would still be opportunities to move up the bunch on the flatter sections, which would, in turn, help when the field got stretched out. The Cipressa and Poggio held none of the fears that La Manie did.
Cavendish listened to Zabel, but La Manie loomed large. That climb would be the key to it.
HIGHROAD: THE TEAM BEHIND CAVENDISH
Bob Stapleton, the American businessman who rescued the team from the ashes of T-Mobile, formed the High Road company and built the team around Cavendish, has fashioned a squad based on an anti-doping ethos.
However, the baggage from the T-Mobile era lurks permanently unclaimed in the lobby. Standing by Rolf Aldag and Brian Holm after they confessed to using EPO during their careers sends mixed messages, some argue. They were part of T-Mobile's management, and have both expressed regret, saying that they don't want their riders to have to face the same set of choices they did. Zabel was hired later. He too confessed to using EPO but gave the politician's answer, saying he tried it once and didn't like it.
To some, Stapleton's choice of management team suggests a double-standard. To them the emergence of Cavendish as the fastest sprinter on the planet raises question marks. After all, it's a valid question. If a rider of another nationality burst onto the scene with such force as Cavendish, and three of his key advisers were people who had admitted to using performance-enhancing drugs during their career, eyebrows would be raised.
Cavendish acknowledges the point, but says it is like someone looking at the result sheet and coming to the obvious conclusion. "I know what I do, how I race. The dope testers come to my house, they test me and they go away and Melissa [his girlfriend] says to me 'I'm so glad we haven't got anything to worry about'.
"I take the point about those guys [Aldag, Holm, Zabel] but I know them. I know that I don't want a single second of what they went through two years ago [they confessed in 2007]. When they confessed, it was absolutely horrible. But I know they feel better now it's out. We talk about it sometimes, we even joke about it, but it's a constant reminder to me of what can happen. In a way, those guys have gone through all that so we don't have to. Winning is everything, but it's not worth that."
CAV'S HISTORIC MILAN-SAN REMO WIN
History was stacked against Cavendish. Even his nationality could have been seen as a disadvantage. Tom Simpson was the only British rider to have won Milan-San Remo, and that was in 1964.
Only twice since the Second World War had a rider won at the first attempt. Eddy Merckx in the 1960s and Gabriele Colombo of the infamous Gewiss team in the mid-1990s. Milan-San Remo has also been something of an older rider's race. Merckx won at 20 and 21. Colombo was 23. Other than that, only Filippo Pozzato, who was 24 when he won, was in the same age bracket as Cavendish.
It suits the older rider partly because the distance requires stamina, partly because it is a far more tactically subtle race than it looks. It is about judging your effort constantly for almost seven hours. It's about getting your rest and recovery when you can, and they are skills that can take years to truly master. They say Milan-San Remo is the easiest of the Classics to finish but the hardest to win.
Columbia did not expect anything. Cavendish's status in the team is such now that he can make the call and everyone will fall into line and work for him. His word is trusted. If he says he can win he's believed, because he's doesn't cry wolf.
"I am so realistic. I am completely realistic about everything. If I say I can win something it's because I know I can," he says. "I don't say I can win if I have doubts. If I'm not sure, I say I'm not sure. People think I'm cocky but I know what I can do and what I can't. Like when I said I want to win Paris-Tours four times in my career, it's because I know, realistically, I can achieve that. If I get three, I'll keep going till I get four. But I've never said I'll win the Tour of Flanders, because it's too hard."
Never?
"Well, maybe not never, but certainly not at the moment. I'd have to change as a bike rider."
Cavendish's preparation was almost derailed the day before the race. The Columbia team went out for a couple of hours. In front of him, Edvald Boasson Hagen took a drink. With his hands off the bars he hit one of those lumps in the road you don't see until it's too late. The Norwegian went down. Cavendish knew he was going down too.
"As I was in the air I thought 'I'm going to do my collarbone here'. I don't know if it made any difference but I tried to sort of roll, go with it so I protected my collarbone. Erik went down too and hurt his ankle, the same one he hurt in his career.
"The thing was when we all got up, Erik's bike had landed perfectly upside down, on its saddle and brake hoods, you know? It was actually pretty funny, and I started laughing. Erik was white because of his ankle but also because I'd gone down. Edvald was white too because he thought he was going to be in trouble.
"It wasn't until we all kind of got going again I realised my knee was pretty painful."
He spent the afternoon with ice on it, but by the evening the nerves had taken over. "Bernie [his team-mate and room-mate Bernhard Eisel] was trying to calm me down, but I was so nervous. He was saying 'It's just a bike race'. I never usually get nervous, except at the Tour, but this was the same."
He took it as a good sign.
TALKING TACTICS
On the day of the race, Cavendish had no plan but to get past La Manie and see how he felt. If he felt good, the team would work for him. If he didn't, the other riders would have a free rein. Maxime Montfort, George Hincapie or Thomas Lövkvist could try something.
Early on it was all about saving energy, keeping out of the wind. It was a fast start but Cavendish felt good.
In the run-up to La Manie, the bunch strung out. "It was like a bunch sprint going into it," he says. "It was like a bunch sprint going into every climb."
Cavendish hit the climb in the first ten, giving himself some slippage. The climb steepened, but he felt okay. "It was a proper climb, but Erik was right, it was easier in the bunch." Montfort was climbing just in front of Cavendish. "I kept kind of overtaking him, so I knew I was climbing well."
Once on the flat, the bunch was in a long line again. Cavendish was well placed, with his team-mate Michael Barry riding just outside him, in the wind, offering that little bit more protection. "What he did was fantastic. He sat there, just saving me 20 Watts. It was a factor, no doubt."
On the Cipressa, it looked as if Cavendish had ground to make up, but he says he was comfortable. "It looks like I'm going backwards on the TV, but I'm not. It was splitting up ahead of me, but I was with Petacchi and in front of Boonen. I could have closed up the gap but Petacchi had three men, so there was no need."
Passing Boonen was a sweet moment, but Cavendish was criticised for publicly enjoying it. "There were some sweaty red faces, and Boonen's was one of them. After what he said it was good to pass him. This is competition, it's about beating people, that's the whole point of a race."
His coach Rod Ellingworth knows what fires Cavendish. He knows that he thrives on proving his point, so much so that he sent a text message to Cavendish telling him what Boonen had said. "I'd already seen it," says Cavendish.
"When he calls, the first five minutes are usually him going on about who's upset him, or who's said what about him. I let him talk it out, and then say 'So, anyway...' It's part of what drives him to the finish line. If you take that out of him, you haven't got the same bike rider," says Ellingworth.
He accepts he can come across as arrogant, but talking to him, he seems anything but. "People don't see the deep sense of self-loathing when I lose a race I should have won. Last year, after Ghent-Wevelgem, I hardly slept for days playing the finish over in my head."
Perhaps it's because of the finish line tantrums, like when he blew off steam at supposedly lesser riders getting in his way at Ghent-Wevelgem.
"I know! I know," he says. "I know it looks bad, I really do. But people don't know what it's like at the finish. What other sport is there where the journalists can all surround you 30 seconds after you've crossed the line, and then they ask 'How did it go?'
"It's like running on the pitch as soon as the final whistle goes and asking a footballer what it's like to lose. It doesn't happen. Only in our sport.
"I am emotional. I say what I think in the heat of the moment and I do lash out. Sometimes I have a go at someone and it's not their fault, and I know it looks bad, but I can't change it. The thing is, people don't see me when I go and apologise later, when I've calmed down, because if I am wrong, I do apologise.
"I don't read the criticism any more, because it does hurt when people who don't know me assume I'm a certain way. If they knew me, they'd know there's more to my character."
HARD AND FAST
"Once I was over La Manie, I knew I could win it," he says. "When we came off the Cipressa I started to really think about it. It was so fast. Juan Antonio Flecha came alongside me and said 'You could win this'."
Suddenly, Cavendish was in a winning position. The sprinters were all there, although the fact Milan-San Remo is referred to as a race for the sprinters is another misnomer. "It's not a sprinters' race. The sprinters know they have a chance to win because it's so hard for anyone to get away. But the sprinters have to change themselves for this race. They keep putting these climbs in to stop the sprinters, so the sprinters have to evolve again. I am a better bike rider for having trained for San Remo, but I've lost a little bit of the top end. I had to change for it."
Round the tight bend at the top of the Poggio in 15th position or so, the descent was controlled, then George Hincapie moved up to Cavendish's side.
"George did an amazing job. He got me into position, but then I felt myself get boxed in. I shouted at George to go, even though I wasn't on his wheel, because I knew he'd get to the front, string it out and it would open up for me again.
"Then I found myself boxed by JD [Julian Dean]. If it was Bennati I knew he'd let me through, but JD would hold his line. At that moment I saw Haussler go, and I knew I had to go. I thought 'It's too early, but if I don't go now, Haussler's won it.' Well, I say I thought it, I didn't think it at the time, there's no time to think like that. You just react instinctively. I knew I had to go."
Cavendish's acceleration was incredible. He latched onto Haussler's wheel, following him across the road, then seized the moment as the Cervelo man began to fade and weave.
Part of the reason for Cavendish's speed is how low he gets over the front end of the bike when he's giving it everything. His frontal area is a lot smaller than almost every other rider, even Haussler, who is also quite small.
Once over the line, the impact of what he'd achieved hit him. "I didn't know what to do, so I just burst into tears."
The planning worked. The mind games paid off, but Cavendish knows it won't succeed again. "I know," he says with a broad grin. "I'll have to think of something else next time."
This interview first appeared in Cycle Sport June 2009 magazine
RELATED LINKS
Brits in the 2009 Giro d'Italia
Thank you for reading 20 articles this month* Join now for unlimited access
Enjoy your first month for just £1 / $1 / €1
*Read 5 free articles per month without a subscription
Join now for unlimited access
Try first month for just £1 / $1 / €1
Get The Leadout Newsletter
The latest race content, interviews, features, reviews and expert buying guides, direct to your inbox!
Sports journalist Lionel Birnie has written professionally for Sunday Times, Procycling and of course Cycling Weekly. He is also an author, publisher, and co-founder of The Cycling Podcast. His first experience covering the Tour de France came in 1999, and he has presented The Cycling Podcast with Richard Moore and Daniel Friebe since 2013. He founded Peloton Publishing in 2010 and has ghostwritten and published the autobiography of Sean Kelly, as well as a number of other sports icons.