Martyn Ashton: "My job is to inspire people"
Martyn Ashton's life was changed by a serious accident two years ago. CW finds out about the former world champion's remarkable return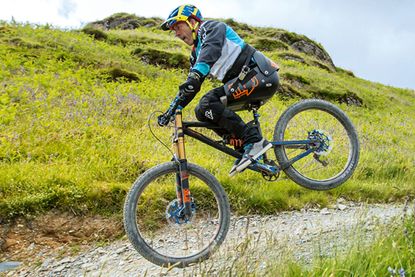 It takes an awful lot of energy to be miserable, so I just choose not to be," says Martyn Ashton. "My job was, and still is, to inspire people with bicycles."
The 41-year-old former mountain bike trials world champion was paralysed from the waist down after damaging his spinal cord during an exhibition at Silverstone in September 2013.
Despite being principally an MTB star, Ashton had won the hearts of roadies just a few months earlier when the wildly successful 'Road Bike Party' YouTube video.
"I'd always loved road bikes and I just wanted to get on a really expensive road bike and see if we could do the stuff we did on mountain bikes."
The answer was that he could: the jaw-droppingly spectacular stunts Ashton pulled on a road machine were an instant hit, winning him millions of new fans. "We thought we might get 100,000 views in total. We hit that number within the first hour of it going live."
>>> Martyn Ashton's crowdfunding raises £29,000 in 24 hours to pay for rehabilitation
So the entire cycling community shared the shock when Ashton hit the deck hard from a three-metre-high bar at Silverstone and spent the next five months on a spinal injury ward.
Filmed back on a bike for the first time, in July this year, there was widespread, palpable joy among his thousands of fans.
Ashton's video 'Back on Track' showed him doing a downhill run in North Wales with a sit-ski seat attached to his bike.
How to make a comeback
Fortunately, very few of us will have to re-learn to ride a bike after being paralysed. But cyclists do have to face the challenge of getting back in the saddle after a crash.
Even after the physical injuries have healed, the mental wounds may remain. The lessons from Ashton's accident and recovery are inspiring and instructive.
Don't look back: If the way you ride has to change, don't waste energy comparing your form to its state pre-accident. Look forward, not back.
Allow time to heal: Even if the scars have healed, it can take more time than you imagine to regain confidence. Build up slowly.
Treat the comeback as just another challenge: As with a fitness or racing goal, a comeback takes time; you will encounter hurdles along the way.
From spinal ward to back on a bike has been an extraordinary journey. It's required physical rehabilitation, but the real battle has been in Ashton's head. When the accident happened, he knew immediately the damage was serious; his T9 and T10 vertebrae had taken the hit.
"I knew instantly that I was paralysed the second it happened. But I never thought I wasn't going to get back on a bike. I thought, arrogantly maybe, about how much fun it is being on a bike and how many people I know in the bike industry. I knew there would be a way."
Ashton is evidently imbued with the strongest of mental attitudes, but he claims to be as prone to grumpiness as anyone else. "I'm not Mr Super Positive and I don't wake up every day and go through a process of being consciously positive," he explains.
"But I do really enjoy feeling grateful and lucky. I never worry about what might have been. I just don't do 'what if?' or 'if only'. I don't look into the past and I don't worry too much about the future.
"The truth is that it would be a lie to think, 'Poor me.' That's not the case. I've arrived here and I want to find out what's next."
The support that Ashton has received from the cycling community has humbled him. "There's so much positive energy, especially on social media," he says.
>>> Martyn Ashton: "Oh my God, I'm not dead" (opens in new tab)
When the moment came to get back into action, in Snowdonia, in July this year, Ashton was unsurprisingly overjoyed: "It was a strange sensation. I felt I was flying or gliding because my bodily sensation stops around my belly button.
"But weirdly, it also felt familiar. Within one metre, I just thought, I'm riding a bike, and we just spent the next two days laughing. That to me is what riding bikes is about — having a laugh with your mates."
Asked what advice he would give to cyclists trying to get back on a bike after a serious accident, Ashton acknowledges it's the mental battle that can be the hardest.
"I don't think about the future because it hasn't happened yet," he says. "I ignore the past because it can't be changed. I've realised that time is just something we've made up — it's not real."
On a more practical level, Ashton is clear-headed: "Don't fill your days with things you can't do. I can enjoy walking my dog now but it's not the same way I walked the dog before the accident. You have to re-learn things and some of them are going to be different.
"You have to take your time. I would never say to anyone not to worry, but time is a great healer."
Ashton has also learned not to temper his expectations: "It almost always doesn't turn out the way you think it's going to. So you have to get used to things changing all the time."
Mental battle aside, the physical challenges for Ashton have been huge. In hospital for five months, he lost almost three stone, nearly all of it muscle mass. "You just have to keep saying to yourself that you will get stronger," he says.
During his recuperation, Ashton has returned to the spinal injuries ward where he spent months, talking to people who've sustained life-changing injuries: "A lot of the time, I just listen. I found that if you can say something out loud suddenly it's not as bad as you thought it was when it's inside your head."
Friend's view: 'He's treated recovery as a challenge'
One of Ashton's closest friends is Robin Kitchin, 42. He has been the cameraman for most of Ashton's outrageous stunts, and he was looking through his viewfinder as the accident unfolded.
"This is going to sound a bit weird, but it's almost as if he's been training for this all his life," Kitchin says. "If it had to happen to somebody, then there couldn't have been a better person for it happen to.
"From the moment I met him, 12 years ago, he's always needed a challenge to motivate him. He can't live without it. He's looked at his life after the accident as just another challenge."
Kitchin recognises Ashton's determination to come back from the accident as a common trait among elite athletes: "You often see that elite athletes come back from a bad injury or a serious setback when an everyday ordinary person might find it harder.
"He's the same guy now as he was before. He's easily excited and he lights up the moment something happens. He's infectious to be around. None of that has changed."
This article originally appeared in the January 7 edition of Cycling Weekly
Thank you for reading 10 articles this month* Join now for unlimited access
Enjoy your first month for just £1 / $1 / €1
*Read 5 free articles per month without a subscription
Join now for unlimited access
Try first month for just £1 / $1 / €1