Matt Gibson: the surprise call up for 2015 track world championships
18 year-old Matt Gibson makes senior Great Britain track debut in Paris at the 2015 UCI Track World Championships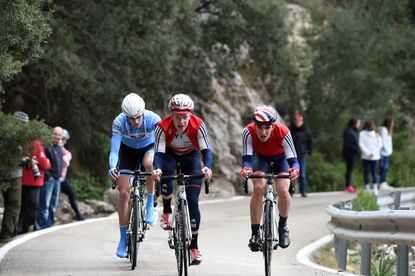 (Image credit: Andy Jones 2014)
Matt Gibson will look to make the most of his pressure free role at the upcoming UCI track world championships after his surprise call up to the Great Britain team in Paris.
The 18 year-old first year on GB's Olympic Academy Programme will make his debut in senior GB colours as part of a seven strong men's endurance squad. While providing valuable support in the team pursuit, Gibson says he is likely to ride the scratch race on February 19.
"I seem to cope quite well in an environment where I'm not always expected to win, where I can give it everything I've got, and there's not as much pressure," he told Cycling Weekly.
"I'd be more nervous going into a junior or U23 race now, where there's more pressure to perform. Obviously there's expectation [in Paris], but not as much, and of a different sort.
"I'd like to think I can get a result there in the scratch."
Gibson recently raced his first three senior road events at the Challenge Majorca but it was his performance in the team pursuit at the Cali round of this winter's Track World Cup, where he was part of a young GB team that finished third in the event, that really impressed selectors.
"Qualifying seventh, we went into the next round with motivation to improve ourselves but not really expecting too much," Gibson added. "So we thought we'd give it everything, we've nothing to lose, and that seemed to work well. We were the second fastest team in that round and that was a massive surprise to us."
Great Britain's recently appointed endurance coach, Heiko Salzwedel, explained to CW that Gibson's selection will give him crucial experience of a major championships ahead of the Olympic year, where he could again form part of the team's plans.
"I saw the numbers, I know exactly what the riders achieved, and the numbers [in Cali] were very promising," he said.
"I want him to gain experience: the group feeling, the tapering, learning how we operate in terms of nutrition, sleeping patterns, recovery, so that we don't start new things next year."
Gibson and the GB squad arrived in Paris on Saturday, February 14, to familiarize themselves with the new track in St-Quentin-en-Yvelines ahead of the competition from February 18-21.
Cycling Weekly will be keeping you up to date with all the latest news, analysis and photos from the UCI Track World Championships in Paris, while Heiko Salzwedel talks to CW about his return to Great Britain and the challenge of winning Olympic gold in the team pursuit in Rio in an exclusive interview in next week's new look Cycling Weekly, out on February 19.
Thank you for reading 20 articles this month* Join now for unlimited access
Enjoy your first month for just £1 / $1 / €1
*Read 5 free articles per month without a subscription
Join now for unlimited access
Try first month for just £1 / $1 / €1