Try the new look Cycling Weekly magazine for free
Cycling Weekly magazine: all new look, content, advice, opinion and reviews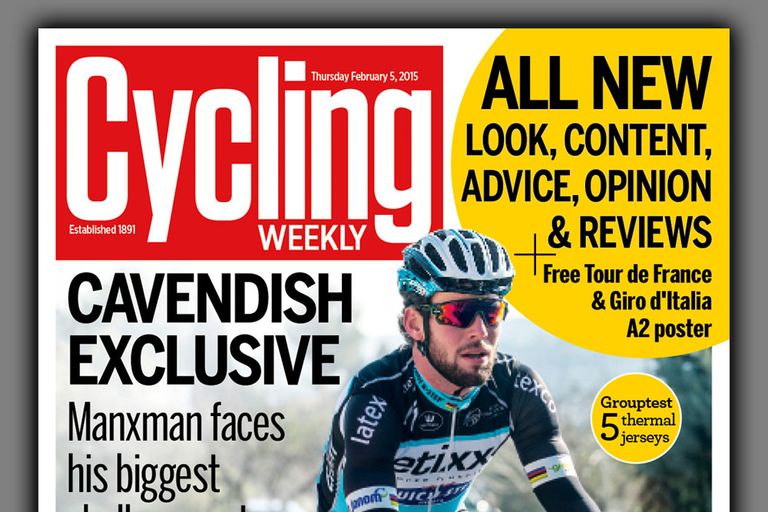 The new-look Cycling Weekly magazine is on sale now, and you can sample the first revamped issue (February 5) for free by clicking on the image above.
>>> Subscribe to Cycling Weekly magazine
>>> Get the digital edition of Cycling Weekly magazine
We wanted a more modern design and exciting new content to appeal to today's riders, but at the same time to reference the history and heritage of our magazine and sport.
Your feedback reassured us of the resurgence in club riding and interest in cycling nostalgia and culture. You also told us that you wanted a fresh, contemporary look that reflected the latest trends.
Clubs feature heavily in the new content, and we've been heartened by the overwhelmingly positive response to our new 'Ride With' section. We've been visiting clubs in different parts of the country, meeting members who have shown us their favourite roads.
The product and tech section now features more reviews than ever before, with in-depth bike tests, product news and gear guides.
Our Fitness section will help you ride faster and better, with no nonsense training guides, nutrition tips and health advice.
We'll get you closer to the biggest names in cycling with interview and features, from world-class professional riders to the people behind the sport.
Plus we bring you news, previews, reviews and analysis of the major races and cycling events across the UK and around the world.
We believe that the latest Cycling Weekly magazine is the best yet since its original launch in 1891. We hope you agree.
Fresh new design throughout
Your essential guide to better, faster riding…
More products tested than ever before…
Complete insight on the latest technology…
Closer than ever to the biggest names in cycling…
The beating heart of the UK club and race scene…
Insiders' guides to the biggest and best upcoming events…
Cycling Weekly magazine February 5 2015 issue is on sale now priced £2.99