Heiko Salzwedel returns to British Cycling in Rio Reshuffle
German track coach returns to British Cycling for his third stint. Sprint coach Iain Dyer moves in to a more senior role.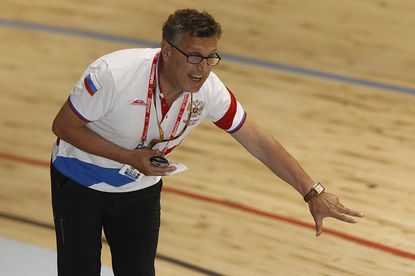 (Image credit: Watson)
German track coach Heiko Salzwedel will return to British Cycling's Olympic coaching team to take over the men's endurance program. The British men's team pursuit squad has lost ground to the Australian's since London 2012 with few competitive rides under the four minute mark and no new talent breaking in to the four-man line-up.
If Bradley Wiggins returns to the track squad after Paris-Roubaix next year, as he has suggested, Salzwedel will oversee his training program.
Salzwedel's appointment comes as part of a re-shuffle that will see long-term sprint coach Iain Dyer become coach coordinator with responsibilities across BC's sprint and endurance programs.
Paul Manning will return to coaching the women's team pursuit squad that he lead to a string of world record beating performances up to and including the London Olympics. Chris Newton has been appointed men's endurance Olympic Academy coach, a role he previously held prior to 2012.
This is Salzwedel's third appointment with the British track squad. He first came in to the coaching setup after the Sydney Olympics, but left in 2002. He returned as Performance Manager late in 2008 after taking the Danish team pursuit squad to Beijing where they won a silver medal.
After that he went to the Russian set-up where, despite the huge budget at his disposal, he only enjoyed sporadic success, mainly with the sprinters. The Russian team pursuit squad briefly looked like becoming a force to be reckoned with when they posted a three minute 56 second ride to win the Kazakhstan world cup in November 2011. They finished fourth in the team pursuit at the London Olympics but the nation failed to take any medals in the track competition.
This latest appointment comes one month after Kiwi Justin Grace joined the sprint coaching team after a short period running the French track program.
The next competition for the British team is the European Championships in Guadaloupe. The London world cup takes place on December 5 - 7 with the 2015 world championships in Paris next February.
Great Britain's technical director says the 34-year-old's return to the team pursuit set-up can galvanise the entire track squad.
Thank you for reading 20 articles this month* Join now for unlimited access
Enjoy your first month for just £1 / $1 / €1
*Read 5 free articles per month without a subscription
Join now for unlimited access
Try first month for just £1 / $1 / €1