Sprint coach Justin Grace moves to British Cycling
Justin Grace will head to UK to work as sprint coach for British Cycling - New Zealander leaves post at the French federation - Former Commonwealth Games champion revolutionised sprinting in New Zealand.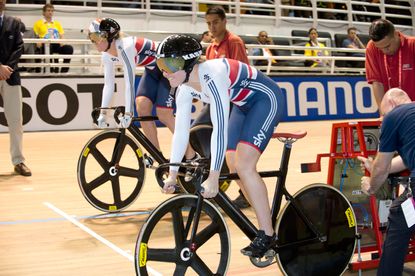 (Image credit: Casey B Gibson)
New Zealander Justin Grace will move to the UK next week to join British Cycling's sprint coaching staff.
The appointment comes almost one year after Grace moved to France to lead the country's track cycling revolution the national federation had planned. Prior to that Grace had an exceptional period building the New Zealand sprint team from nothing to a world power.
With next to no funding, Grace trained promising young Kiwi sprinters in his garage in Auckland - nicknamed the 'G Racing Institute' - where he developed them in to junior world champions (in 2009) using static trainers and studying videos.
Three years later at the 2012 Olympics Simon Van Velthooven won a bronze in the keirin (New Zealand's first Olympic medal in a sprint discipline) and earlier this year took the team sprint world title just months after Grace had sold his house and moved to Europe.
Grace's appointment by the French was nothing short of revolutionary, and something that surprised even him. "I remember many years ago thinking there were probably two countries in the world that I would never get the chance to work in and that's France or Germany. Because they never take [any foreigner] for any staff role," he told Cycling Weekly.
His move to France coincided with the opening of the new French national velodrome in Saint Quentin en Yvelines near Paris, that will host next year's track world championships, and the announcement that the French would follow the British Cycling model by looking for an umbrella sponsor to back their cycling program.
Although his appointment met with some resistance from Gregory Bauge, Francois Pervis was more enthusiastic and went on to brilliantly win three world titles in Cali, Colombia. However in June, Grace was moved into a new position at the French Federation with the language barrier and resistance of some athletes to his training regime cited as problems.
Since London 2012 and the retirement of Sir Chris Hoy and Victoria Pendleton, the British sprint program has stagnated while other nations have developed at a rapid pace. Grace's appointment may swing the momentum back in BC's favour. "At this stage of the Olympic cycle, we're looking to bolster the staffing team and I believe that to have someone of Justin's calibre and expertise will enhance our medal prospects for Rio." said Technical Director Shane Sutton.
"Justin has been on both sides of track sprint – he's enjoyed success as an athlete and he's coached sprinters to Olympic medals and world titles and I think he will be a valuable asset to the Great Britain Cycling Team."
Grace joins current sprint coaches Iain Dyer and Jan Van Eijden. He will start his role on September 1.
Thank you for reading 5 articles this month* Join now for unlimited access
Enjoy your first month for just £1 / $1 / €1
*Read 5 free articles per month without a subscription
Join now for unlimited access
Try first month for just £1 / $1 / €1