Matthias Brändle resigned to losing the Hour Record "soon"
"I've already had it for three months," admitted the Austrian.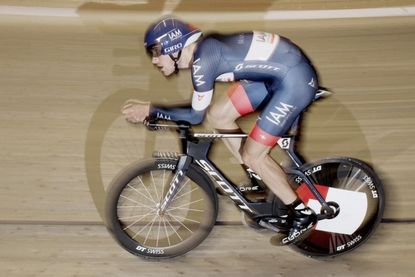 Current Hour Record holder Matthias Brändle says he won't be upset if Australian Rohan Dennis takes the title away from him in Switzerland tomorrow.
BMC rider Dennis will attempt to break Brändle's benchmark of 51.852km in Grenchen at 1pm UK time on Sunday.
And the IAM Cycling rider, who set his benchmark on October 30 last year, admitted to CW that he was not worried ahead of Jack Bobridge's unsuccessful ride last week, nor Dennis' tomorrow.
"I've already had it for three months, so I was not worried about losing it to Jack, and won't be tomorrow," he said.
"Just like I took the record from Jens [Voigt], I know somebody will take it from me. I cross my fingers for Rohan that everything goes well for him."
Brändle - who admitted it's unlikely he'll be able to watch Dennis' attempt live from Qatar, where he begins his 2015 road season tomorrow - added that Bobridge's failed attempt in Melbourne last Saturday added credence to his performance.
"I wasn't in the best shape when I did my ride, but I think some people underestimate the record. Some people think it's easy to ride 52 kilometres," added Brändle.
"Most people would have said Jack would have broken it, maybe nine out of 10 people would have said that. But it's really hard, and it's not for everybody."
Speaking ahead of the Tour of Qatar, the 25-year-old Austrian reflected on his life since he made a name for himself on the international scene by breaking the record.
He said: "It has changed my life a lot. A lot more people know me in my country, I have a bigger profile I think. As a sportsman, you live a lot off your profile."
Thank you for reading 5 articles this month* Join now for unlimited access
Enjoy your first month for just £1 / $1 / €1
*Read 5 free articles per month without a subscription
Join now for unlimited access
Try first month for just £1 / $1 / €1
Nick Bull is an NCTJ qualified journalist who has written for a range of titles, as well as being a freelance writer at Beat Media Group, which provides reports for the PA Media wire which is circulated to the likes of the BBC and Eurosport. His work at Cycling Weekly predominantly dealt with professional cycling, and he now holds a role as PR & Digital Manager at SweetSpot Group, which organises the Tour of Britain.