Jack Bobridge: It's an underestimated record
Australian Jack Bobridge reflects on his failed attempt to set a new Hour Record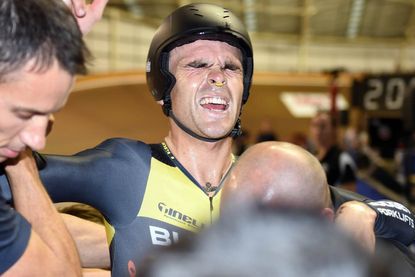 (Image credit: Watson)
Jack Bobridge grimaced, then laughed, then reached for a makeshift bucket as he recovered in the cool and darkened tunnels of the Joe Ciavola Velodrome after his Hour Record attempt.
The 25-year-old resembled more an old man than champion athlete gingerly sat in a plastic chair behind a specially designed divide, a white towel covering his aching legs.
His highly anticipated attempt was the feature of the final session of the Australian national track championships and the Olympic silver medallist fell just short of Matthias Brandle's current 51.852km benchmark. Bobridge had travelled 51.3km when the gun sounded in front of a sell-out crowd in Melbourne, Australia.
"I'm in that much pain it's funny, I don't know what else to do but just smile," Bobridge said when the press later came to him, the infield too far to walk. "I can't even describe how much pain my glutes and quads are in. It's by far the hardest thing I've ever done, and the hardest thing I'll ever do.
"It's an underestimated record. I take my hat off to Brandle."
At 7pm AEST Bobridge entered the velodrome to raucous applause and AC/DC's Thunderstruck, which was part of a attempt-specific soundtrack he designed himself.
Family, including wife, Josie, a former Australian and world track champion, and infant daughter, watched from an enclosed VIP room, mindful of not letting cool air escape into the heated velodrome, which was around 28 degrees just before Bobridge took to the boards.
Budget Forklifts trade and national team-mates including friend and fellow London 2012 Olympian Glenn O'Shea sat in the stands watching as Bobridge's rhythm notably fluctuated throughout the attempt.
"He set a pretty lofty target so maybe that was a bit too much in the end, but he always wanted to do it big time so I guess it's a good learning experience," O'Shea said. "I wouldn't be surprised if he has another crack at it.
"After watching that, there's no way I'd even consider it now."
The reality of the attempt was established within the first 20 minutes around where Bobridge adjusted his schedule, splits written on his hand becoming irrelevant.
"That was the point I knew what I was in for," he said. "When you get to that 20-30 minute mark it starts to sink in what's happening and what your body is going through. It's when you realise you're definitely going to hell.
"The first 20 minutes I was riding to what we wanted to do. Now I look at it, it was probably a bit too quick and I had to settle myself back in at a different schedule. I guess I paid the price going out on that sort of pace," he continued, emphasising the importance of control.
"It's about finding that fine line of what you're capable of and it showed if I put too much in I paid the penalty for a couple of laps until I got my rhythm back."
Bobridge holds the 4km individual pursuit world record and today's Hour attempt was part of a grander career plan that includes the 2016 Rio Olympics and finally usurping Great Britain in the team pursuit.
"With the IP world record, I wasn't going for it on the day, it just happened," Bobridge said. "It was more of a shock. When you're actually going for something, like this, I guess you know what you're in for in a way, but I definitely didn't know I was in for that."
National high performance coach Tim Decker revealed after the attempt that he and Bobridge had set a target distance of about 52.5km, which Rohan Dennis (BMC) is aiming for in Switzerland next week.
Bobridge had some simple advice for his compatriot and others, including Bradley Wiggins, soon to embark on the same endeavour.
"Don't do it!" he laughed, still in agony.
Twitter: @SophieSmith86
Thank you for reading 20 articles this month* Join now for unlimited access
Enjoy your first month for just £1 / $1 / €1
*Read 5 free articles per month without a subscription
Join now for unlimited access
Try first month for just £1 / $1 / €1