Medals slip away from GB on frustrating fourth day in Cali
No medals on day four of the UCI track cycling world championships in Colombia - Jason Kenny fifth in men's sprint - Ed Clancy wins three rounds of the omnium but finishes fifth overall - Jess Varnish beaten to the bronze medal in the women's sprint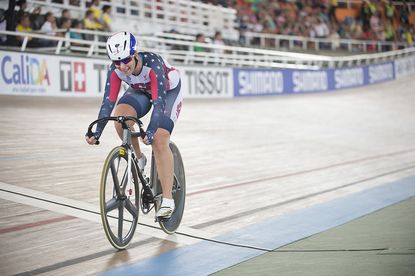 (Image credit: Casey B Gibson)
It was a frustrating day for the British track team as one by one medals slipped out of their grasp throughout the fourth day of competition in Cali, Colombia.
Jess Varnish looked most likely to deliver in the women's sprint but having knocked her team mate and defending champion Becky James out the day before, couldn't get the better of the Chinese riders she met in the semi and then bronze medal finals today.
"It's disappointing not to be on the podium," Varnish said after her most successful run in the sprint competition at a world championships. "I thought it was going to be do-able today but it just wasn't there for me. I was happy to get here in the first place after racing everyone yesterday."
"They were both really, really good." She said of the Chinese riders. "They've got the old French coach now, and obviously he was really good at preparing the French girls tactically. The Chinese girls have always been really, really fast and really good in the timed races. But now they're really learning to race so they are going to be a force to be reckoned with."
Germany's Kristina Vogel won the sprint, making it three golds from three events for the German sprinters.
Video: Watch Jess Varnish in her bronze medal final
http://www.youtube.com/watch?v=yHhBZPNa9lo&list=TLRQHlfVOrN3R5xz53L554by67fODuSh5P
>>Result of the women's sprint competition (opens in new tab)
There was to be no medal for Britain's male sprinters either. The event concludes tomorrow but Jason Kenny, the champion in 2011, won't be involved after he was knocked out by the flying Frenchman François Pervis in the quarter finals. Kenny won the 5-8th place final but his exit meant that Britain's male sprinters will return from Cali without a single medal from any of the four disciplines.
"All year it's just been a bit average," Kenny said. "Every now and again you get a little flash and you think the raw speed is back that you need for qualifying. I'm not far off really, it's fractions, unfortunately we're at the wrong end of those fractions, we want to be fractions in front, not fractions behind."
"I always seem to be on the back end of it, rather than ahead of it. It's something that is a bit of a concern and a massive thing I'll be working on."
Clancy ends a nightmare week
Ed Clancy finished fourth in a fiercely contested men's omnium even after winning three of the rounds. The 2010 world champion won yesterday's flying lap, then the scratch race and kilometre tt today. Despite this he still missed out on a medal after a below par pursuit and 13th in the points race yesterday.
"Truth be told this whole week's been a bit of a nightmare." Clancy admitted afterwards. "I think with the form I had [fifth] is the best I could've hoped for. The scratch race was a soft race and it came down to a sprint. That's always good news for me."
"The kilo, the flying lap, we've still got good speed, [but in] the pursuit I was going nowhere. Points and scratch and elimination race weren't that bad. It's the pursuit where we lost ground here today."
"Back to the drawing board and we'll try to sort it out next year."
>>Result of the men's omnium (opens in new tab)
Laura Trott ended the first day of competition in the omnium trailing America's Sarah Hammer by six points. Trott rode a brilliant points race - her least favourite of the six - to finish third, but surprisingly didn't win the elimination race. Hammer looks good for the gold with a second and two first places today, leaving Trott, Annette Edmondson (AUS) and Belgian Jolien D'Hoore to battle it out for silver and bronze.
Australia won gold in the women's points race with Amy Cure as Britain's Katie Archibald finished fourth. This was however only her third international standard points race; "I think you'd be nuts to go into a race and to not want to win. I wake up and I want to win." Archibald said afterwards.
"It's interesting, because I raced at Euros [last October in Apeldoorn] in a points race and you wouldn't have known I was there. I was following wheels, I was just a nobody. It's nice to be moving up. Fourth is a positive for me."
>>Result of the women's points race (opens in new tab)
Thank you for reading 5 articles this month* Join now for unlimited access
Enjoy your first month for just £1 / $1 / €1
*Read 5 free articles per month without a subscription
Join now for unlimited access
Try first month for just £1 / $1 / €1