New barriers on a London bridge reduce space in cycle lane
Barriers on Blackfriars Bridge have reduced space in the cycle lane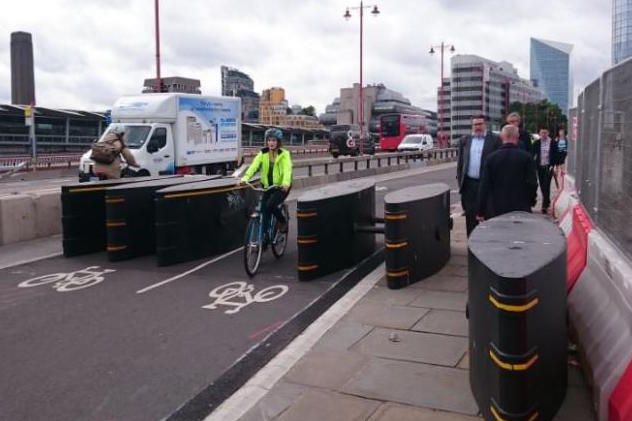 New barriers on a London Bridge designed to prevent cars from driving into pedestrians have irked cyclists.
After the three barriers that were placed on Westminster, Waterloo and Lambeth bridges earlier this week, a new set of different barriers have been installed on Blackfriars Bridge.
There is a set of concentre barriers that separates the road from the pedestrian walkaway and cycle lane; nine barriers have been placed across the cycle lane and path.
The barriers, which have space between them to allow a cyclist's passage, is on the route of the Cycle Superhighway 6.
>>> London Cycling Campaign call on barriers on London bridges to be modified
While there is an acceptance of the requirement of the barriers in light of the two terror attacks in the capital this year, there are fears that the barriers will cause congestion and result in a bottleneck of riders at busy periods.
The London Cycling Campaign, who yesterday called on modifications to the exiting barriers, told the Evening Standard that the new barriers represent a "real safety risk". A spokesman said: "These barriers had to go up very fast indeed. We hope that something can be done to modify or change them to provide security and not make things worse for cyclists."
"We will be talking to all relevant bodies about how measures, such as the new barriers on the bridges, can provide the extra security needed as well as allow people, especially London's large number of cycling commuters, to continue to cycle safely with minimal disruption."
The Metropolitan Police have said that they are assessing security at all 33 bridges in the city, meaning that barriers could be installed at more.