Nine signs you need to get out on your bike more
We'd all love to be out on our bike all the time, but unfortunately work, family and our social lives often get in the way. Here are a few signs that you've been off the wheels for too long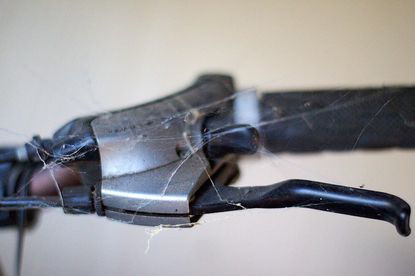 Your bike becomes an expensive towel rail
"How much?" you exclaim when your partner reveals they've just paid £35 for a decorative cushion that will never be graced with your backside.
Your protestations at the 'waste of money' are soon nullified when they point out the towel draped across the handlebars of your £1,500 bike and the mound of clothes on top of the saddle - another thing that hasn't been graced with your backside in some time.
>>> The best road bike upgrades
Soon it becomes more hassle to move the clothes and go out for a ride than it is to just maintain the status quo and leave everything exactly where it is.
Your tan lines have disappeared
For non cyclists, tan lines are something to be avoided at all costs but to a rider the definition of the colour difference between your forearms and your shoulders is a status symbol.
Hardcore cyclists marvel in the Mediterranean complexion their skin has taken by August, but underneath all that lycra their pasty white hue is almost dazzling.
>>> The eight best (or worst) cycling tan lines
When you can't ride as much as you'd like, though, those tan lines all but disappear making you feel a little inferior to your fellow riders.
"I just put a load of suncream on," you lie when someone clocks your bright white arms. The truth is you've not put any on in a desperate attempt to get a little colour, even if that colour is lobster pink.
You can't remember the last time you had a flapjack
One of the great joys of being a cyclists is being able to pop into a cafe midway through your route and absolutely justify eating anything you want on the menu, knowing you're only going to burn off the calories on the way home.
>>> Food swaps to boost your cycling fitness (video)
But if you can count on two hands and both feet the number of days since you last tasted the chocolate coated fruit and nut flapjacks (400 calories a piece) that your local cafe serves up then you need to dust the bike off.
The other alternative is just to find the recipe for the flapjack and gorge on it in the comfort of your own home. But don't do that. That's no fun.
You find your box of energy gels has gone out of date
Despite being 99 per cent sugar, energy gels and bars do actually have a use by date - and it's always a surprisingly short lifespan.
Normally you'd have no problems smashing through your supply of goodies as you pound the lanes on your bike, but after a spell of inactivity you find they're past their best.
In reality this date is probably just randomly plucked from thin air, but to a perennial dodger of the bike it's yet another excuse not to go out.
You're well behind your mates in the annual mileage race
On your way home from the local greasy spoon on a Saturday morning, where you treated yourself to an extra sausage and bacon on the fry up, you notice that two of your friends have posted a 50 mile ride on Strava.
>>> Five invaluable tips to help you step up from riding 60 to 100 miles
"Where do they find the time?" you ask yourself as you browse the local TK Maxx for half an hour before trundling home. They've already racked up a couple of thousand miles this year and you're still stuck in three figures.
The guys at Strava start worrying for your health
Unlike my local gym, I get the feeling the guys at Strava really care about my wellbeing.
"Sorry we haven't seen you in a while," they'll (personally) email if you don't use your account for a few months.
>>> Strava and Garmin launch Strava Live Segments
Now, I don't know if that's an actual thing they do, but I like to assume that every time I upload an activity there's someone at Strava who'll breathe a sigh of relief that I'm still alive.
If your Strava (other recording platforms are available) is looking rather bare then it's probably a sign that you could get out a touch more and leave the guys at Strava HQ to worry about some other poor soul.
You hadn't noticed that the council had tarmacked your road
You've driven down this road most days in the months since you last rode your bike but you've not noticed that a lovely new layer of tarmac has been laid.
It's a cyclist's dream - finding a lovely smooth road that you can bomb along - but you never notice the road surface unless you're on your bike.
>>> Cyclists' guide to dealing with potholes
When you're out on the bike and marvelling at the wonderful job they've done in resurfacing the former minefield you feel your wheel buckling as you hit a pothole that definitely wasn't there last time your rode your favourite route.
You forget which gear shifter does what
You actually get out on your bike and then there's more problems - you've forgotten what to do. It took a while to master the art of changing gear when you first took up cycling, but now you're back to square one.
>>> Are you using your bike's gears efficiently?
You really want to change down a gear because your legs are shot, but you can't work out which of the levers to push. Is it the left one or the right? By the time you've worked it out you've reached a slight descent and then change up a gear and the problems start all over again.
You convince yourself you're getting enough exercise already
Well, there's the five minute walk to the train station in the morning, and then you trundle to the sandwich shop and back each lunchtime. You also take the stairs to the third floor of your office block twice a week rather than taking the lift.
Then there's the five-a-side team that you're a part of, but they've not picked you for a few months because you're so out of shape.
The catch-22 is that if you go out on the bike more you'll become fit enough to be picked for the football, meaning you'll have less time to spend with your loved ones. But you will be spending more time with one of your true loves - your bike.
Thank you for reading 20 articles this month* Join now for unlimited access
Enjoy your first month for just £1 / $1 / €1
*Read 5 free articles per month without a subscription
Join now for unlimited access
Try first month for just £1 / $1 / €1