OFFICIAL: CYCLING IS GOOD FOR BRITAIN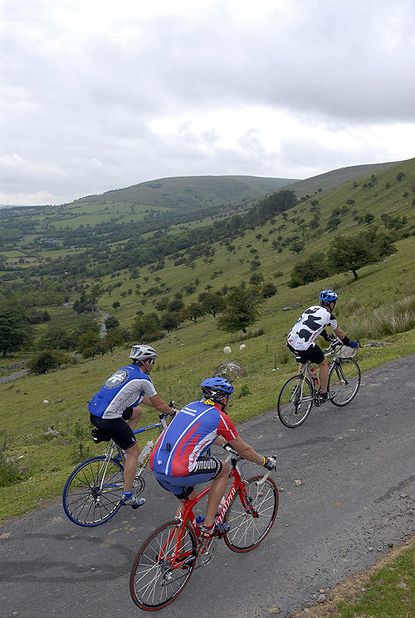 How do you slash the nation's health bill by between £500m and by £1.3 billion by 2015?
The answer to this riddle comes in an economic report on cycling published on Monday, and it made press headlines.
It is yet another wake-up call for The Treasury, evidence of how cycling can help solve Britain's health and transport problems.
To help achieve this, Cycling England - the government body charged with promoting cycling - is asking for £70 million per annum.
A few years ago when Cycling England first pitched for £70 million, the government gave them a miserly £5 million!
They've since tripled this figure, and the money has helped sustain the Six Cycling Demonstration Towns project and Bike It, the schools cycling programme.
The Cycling Towns project in particular has boosted cycling significantly, demonstrating what can be achieved with microscopic elements of the Transport budget.
This report quantifies as never before the economic benefit of more people cycling, says a spokesperson.
Properly funded, cycling can significantly contribute to a sustainable transport system, by:
*saving between 27 million and 54 million car journeys a year, mainly in congested cities at peak hours.
*saving 35,000 tonnes of CO2 each year
*improving local air quality
*reverse generational decline in the numbers of children cycling to school
*cut the number of cars on the school run by five per cent.
Cycling England will do this, they say, by.-
*giving every child in England the chance to have Bikeability training before they leave primary school.
*dedicated cycling champions working with every primary and secondary school in England with seven years.
*identify safe routes to schools, for tens of thousands of children
*build 600 new cycling links to schools
*transform every major English city by delivering a 100 per cent increase in the number of people cycling by 2012.
*dedicated towns in every region delivering increases of 100 per cent in cycling.
Otherwise, the following scary scenario is set to worsen, says the report.-
*traffic to grow by 20 per cent between 2003 and 2015
*pumping out an extra 15 million tonnes of CO2
*14,000 - 24,000 hospital admissions a year are linked to poor air quality.
*70 per cent of air pollution in towns and cities comes from transport emissions.
*Currently, congestion costs the UK £20bn a year.
The report concludes that today, for the first time, the organisations, programmes and evidence exist to create a strategic, long-term role for cycling in helping tackle transport challenges.
The question, it says, is one of will, ambition and vision.
Thank you for reading 10 articles this month* Join now for unlimited access
Enjoy your first month for just £1 / $1 / €1
*Read 5 free articles per month without a subscription
Join now for unlimited access
Try first month for just £1 / $1 / €1
Keith Bingham joined the Cycling Weekly team in the summer of 1971, and retired in 2011. During his time, he covered numerous Tours de France, Milk Races and everything in-between. He was well known for his long-running 'Bikewatch' column, and played a pivotal role in fighting for the future of once at-threat cycling venues such as Hog Hill and Herne Hill Velodrome.