Oldham takes second in Lichtervelde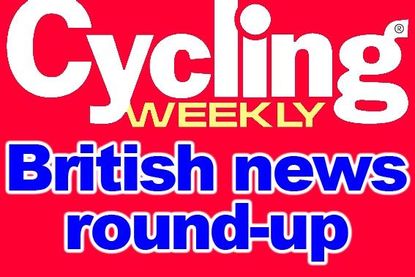 OLDHAM RIDES TO SECOND IN SNOWY FLANDERS
At Saturday's B-level cross event in Lichtervelde, National Trophy series leader Paul Oldham finished a close second to winner Kendric van Grembergen.
The Hope Factory Racing rider was just ten seconds adrift at the finish.
Oldham commented: "It was the weather that really made it hard work - we don't practise much on snow, do we?"
Oldham in full flight
"It took me about half the race to get going. I was struggling on the frozen ground but once I got going, I went from tenth to second, just jumping across groups," he added.
He made the Belgian trip with team-mates Dave Collins, who finished twelfth, and Keith Murray.
It is Oldham's last racing exit before the Christmas break. However, outings in the North West and North Eastern leagues at Macclesfield and Croft should keep the Lancastrian in good nick before the national championships on January 10.


WYMAN LEFT OUT IN THE COLD IN KALMTHOUT
Meanwhile, British cyclo cross champion Helen Wyman was forced to abandon this weekend's cyclo-cross world cup race in Kalmthout.
Compatriots Gabby Day and Nikki Harris fared slightly better in the snowy and freezing conditions.
Read the full story >>
TEAM ZAPPI DEVELOPMENT SQUAD UNVEILED

Team Zappi's line-up has been unveiled for next year. Led by former pro Flavio Zappi, the five-strong roster comprises the likes of promising espoirs Tom Yeatman and Dexter Gardias.
Read the full story >>
DRAGON RIDE ADDS NEW ROUTE

The Kiron Dragon Ride, recently voted Cycling Weekly readers' favourite sportive for the second successive year, has added another route to its repertoire.
A "Corto" 40km ride has been introduced for 2010. It is aimed at families, first-time sportivistes or those just looking for something a little less tough than the Medio (130km) and Gran (190km) Fondi, the latter taking in 3000m of climbing in the valleys of South Wales.
The 2009 event drew a capacity 3,100 riders on the start-line, including Cervélo Test Team rider Dan Lloyd and Paralympic champions Simon Richardson and Daniel Kenny.
It is seen as ideal training for popular European sportives such as the Etape and Marmotte.
The event takes place on 6 June 2010, starting and finishing at Pencoed Technology Park.
While individual and corporate packages are available now, standard entries open at midnight on the 27th/28th of December.
For more details and to enter, go to www.dragonride.co.uk


CENT COL CHALLENGES STILL OPEN
Into their second year, the Cent Col Challenges are bold multi-stage cyclesportives on the market.
The Alp and Pyrenees 50 and 100s on offer are self-explanatory: they involve climbing fifty or a hundred climbs in five or ten days, taking in a mix of classic climbs and little-known treasures.
They are aiming - in their own words - "not to break you, but to make you true 'grimpeurs'. However, with days average 200 kilometres and ten cols, it isn't one for the faint-hearted.
Places are filling up fast on all four. Seeing the climbs on the route, it's not difficult to see why either. Among the century of tough climbs encountered in the ten-day Alps 100 are the Galibier, Izoard and Eze, as the ride heads to Nice before looping back to Annecy.
The Pyrenees 100 also encompasses the legendary likes of the Aspin, Aubsique and the Tourmalet.
The first challenge took place this September, earning glowing praise from the hardy 35 entrants.
One, Bob Hamilton commented: "As an endurance athlete of some 30 years standing, the best testimony I can offer to the enormity of the challenge represented by the CCC is that I would not do it again!"
"It represents a kind of pinnacle of achievement for me. It's laid some ghosts to rest. Banished some demons, so to speak. I will surely take on other challenges in the future, but nothing will surpass this, and I'm content now knowing that nothing actually has to surpass this."
It is marketed as a team event - and comaradery may well be needed for this kind of undertaking - but individuals are encouraged to enter too.
The challenges take place between June and September; visit www.centcolschallenge.com for more details.
If you have any British news you would like to share, please contact andrew_canning@ipcmedia.com
Thank you for reading 20 articles this month* Join now for unlimited access
Enjoy your first month for just £1 / $1 / €1
*Read 5 free articles per month without a subscription
Join now for unlimited access
Try first month for just £1 / $1 / €1