OLYMPICS 2008: TRACK DAY THREE SUMMARY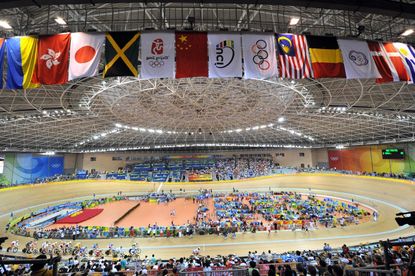 Only one set of medals were on offer at the Laoshan Velodrome on Sunday, and it was inevitable that the gold would end up in Britain's possession. Rebecca Romero's emotional win over team mate Wendy Houvenaghel in the final of the women's pursuit continued British dominance on the track.
Overall, Britain now lies third on the medal table behind the United States and China with 11 golds, six silvers and eight bronze. Of these, five golds, three silvers and two bronze belong to cycling.
To get a perspective on how well the British team are doing, our original total target was 35 medals. So far, the British have racked up 25. For London the aim was to get fourth overall in the medal table. That already seems like a real possibility in Beijing.
And it's in large part thanks to the cyclists. What better illustration of our superiority than the women's pursuit final, where two Brits duelled for gold? Rebecca Romero and Wendy Houvenaghel both consistently clocked the best times through the qualifying rounds, the first round and the final.
Or the team pursuit, where our boys broke their own world record en route to Monday's final? New Zealand, Australia and Denmark all clocked under four minutes in the heats, so the opposition is fierce. But Britain's world record proved that they are in a class of their own.
And Victoria Pendleton, Chris Hoy and Jason Kenny all set Olympic records in sprint qualification.
In the 1/16 final Hoy beat Russian Denis Dimitriev by diving through a gap with one and a half laps to go. Once you let Hoy to the front, all you?ll ever see is his back wheel, as Dimitriev discovered. Moments later Jason Kenny did the same with Pole Lukasz Kwiatkowski.
In the 1/8 final, Hoy was even more impressive, leading virtually all the way against Japan?s Kazunari Watanabe and accelerating as and when he wanted. Yes, the gap did decrease slightly at the end, but after two golds in two days, can you really be surprised?
Kenny had a bigger set-to in his 1/8 final with Malaysian Mohd Azizulhasni Awang. The Malaysian led Kenny very slowly up the banking until the Briton suddenly shot down past him and into the lead. Awang tried to come back at the finish, but it was too late.
Vicotria Pendleton was equally dominant in her 1/8 final against Sakie Tsukuda of Japan. In the second last bend, Pendelton stormed past her for a win that looked deceptively easy - the true mark of a champion.
Each day the medals flow in for Great Britain, and each day the foundations are laid for more to come. There is only one way to describe it really: track world domination.
Swipe to scroll horizontally
OLYMPIC GAMES 2008: TRACK
Day two in pictures
Sunday's action as it happened
Preview: Sunday at the Laoshan
Day two at the track: Summary of the action
Hoy and Edgar clean up in the Keirin
Wiggins gets pursuit gold, Burke wins bronze
Newton storms to bronze in points race
Saturday's action as it happened: Two gold, a silver and two bronze for Britain
Blog: Life in Laoshan
Day one in pictures
Brits blast to team sprint gold
Day one at the track: Summary of the action
Friday's action as it happened: Gold for team sprint trio; Wiggins, Houvenaghel and Romero well in control
Burke blasts to new individual pursuit PB
British track stars raring to go
What makes the Laoshan such a challenge
Picture special: CW takes you inside the Laoshan velodrome
Saturday's preview
Friday's preview
Can these legs make an Olympic champion?
Cavendish unlikely to ride individual pursuit
How many medals will Britain's riders win?
Swipe to scroll horizontally
Positive test for cyclist at Olympic Games
Bettini chasing second Olympic gold
Romero poses nude for ad
British quartet eyeing new world record
As Olympics approach two new drugs emerge
Beijing Blog
Beijing Blog 2
Beijing Blog 3
Swipe to scroll horizontally
Picture special: Women's time trial
Cancellara wins men's time trial gold
Men's time trial reaction: Steve Cummings on his ride
Women's time trial reaction: I feel fantastic, says Pooley
Pooley wins silver in women's time trial
Cooke's secret was the skinsuit
What the papers say... about Nicole Cooke
Analysis: women's road race
Gold for Nicole Cooke in Women?s road race
Reaction: It?s a dream to win Gold, says Cooke
Women's Olympic road race picture special
Sanchez gives Spain gold in thrilling men?s road race
Who is Samuel Sanchez?
Tactical analysis: Reading the men?s Olympic road race
British riders suffer in hot and humid Olympic road race
Rebellin misses out on golden birthday
Brailsford confident ahead of women?s road race
Swipe to scroll horizontally
OLYMPIC GAMES 2008: GUIDE
Olympics cycling results>>
Cycling event schedule>>
Great Britain rider profiles>>
Cycling event guide>>
Photo gallery>>
Every British cycling medal ever won at the Olympic Games
From paupers to kings: The lottery funded revolution>>
Track results at the Worlds and Olympics 2004-2008
Thank you for reading 20 articles this month* Join now for unlimited access
Enjoy your first month for just £1 / $1 / €1
*Read 5 free articles per month without a subscription
Join now for unlimited access
Try first month for just £1 / $1 / €1