Pat McQuaid: 'I'm still waiting to see a change'
Former UCI president Pat McQuaid on his replacement Brian Cookson: "I'm still waiting on promises being delivered"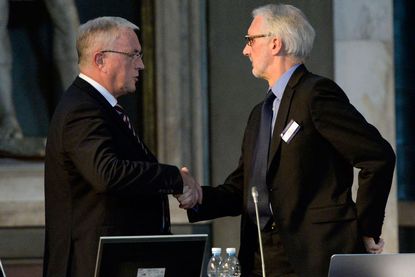 It was no surprise to anyone to see former UCI president Pat McQuaid during the rest day of the Tour de France. McQuaid was with his son, riders' agent and lawyer Andrew, who, among other riders, represents Richie Porte.
McQuaid was interviewed by French website Cyclsime Actu about this year's race and, to the delight of Cyclisme Actu' big boss Emmanuel Potiron, he made a connection between French politics and the UCI's recent change of presidents.
"It was fantastic," enthused Potiron, "he said that if cycling was clean now it was thanks to him and he compared himself and Brian Cookson to Sarkozy and Hollande, can you imagine? You should look and use it if you want."
Well, we did have a look and we did find Pat – slimmer and healthier looking than in his final years at the UCI – fighting his corner and happy for history to judge him.
"I don't follow UCI events that closely, I follow it from a distance, but I've turned the page and have other things to do, the UCI is finished for me. I'm happy to see that cycling is in a very, very good place at the moment, the health of the riders, the fight against doping is working well and the peloton is much, much cleaner than it has ever been in the history of the sport and that is, eh, thanks to me, thanks to the work that I did when I was at the UCI, things that I put in place in the fight against doping and I am happy… I think in years to come when the history of cycling is written, I think I'll have my place and be well regarded in that history," noted McQuaid with confidence.
Quizzed further about his treatment at the time, the ex-president sighed and added, "Ah…yes, it was hard at the time but it's easy to say things. It's like French politics. When Sarkozy was president of France you had Hollande who came in against him and said, 'Oh Sarkzoky isn't doing this, he's not doing that.' Well, now Hollande is President of France and it's a little bit worse than it was in the past!" laughed McQuaid.
"It's easy to say things in politics when you are the challenger, but after you have won the position, then you have to deliver on your promises and I'm still waiting on promises being delivered," smiled McQuaid rather mischievously.
Three members of new independent commission appointed by UCI will 'investigate the problems cycling has faced in recent years'
In line with his pre-election promise, new UCI president Brian Cookson has revealed his salary to be CHF340,000 (£235,500)
New UCI President announces staff and policy changes after just a fortnight in the role
Thank you for reading 10 articles this month* Join now for unlimited access
Enjoy your first month for just £1 / $1 / €1
*Read 5 free articles per month without a subscription
Join now for unlimited access
Try first month for just £1 / $1 / €1