More people would e-bike commute if Cycle to Work cap was raised, survey shows
A fifth of workers would invest in an e-bike and almost half of regular riders would make the switch to battery power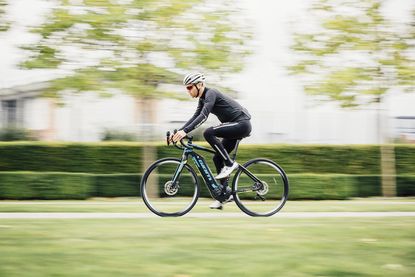 (Image credit: chris catchpole)
A survey has shown that more British workers would use e-bikes to get to work, if the Cycle to Work scheme cap of £1000 was raised.
A fifth of respondents said they'd be more likely to buy an e-bike if the cap was upped, and 47 per cent of those who cycle at least once a week said they'd swap over to battery power.
To those who commute less than once a month, and could perhaps be tempted to take the bike more often, distance was a major barrier.
Almost half - 44 per cent - said the length of the journey was the biggest deterrent, something that could be addressed with a bike that offers pedal assistance.
Elsewhere in the world, particularly in Europe, e-bikes have become a common sight. In Germany, one in five bikes sold is an e-bike - sales were up 19 per cent in 2017 vs 2016 with 720,000 rolling out the door.
Whilst the UK boasts a 16 per cent share in overall bike sales across Europe, second only the Germany (21 per cent), we're much lower down the list when the bikes have a battery - with only five per cent of sales, ranking in seventh place behind Austria, Italy, France, Belgium, the Netherlands and Germany.
In the UK, just three per cent of people have an e-bike.
The Cycle to Work scheme - which sees employees enjoy tax breaks as well as spreading the cost of a bike - has been capped at £1k since its introduction in 1999. The scheme is still highly active and used: a 2016 report showed that around 180,000 people a year participated.
Electric bikes are more expensive than regular bikes - at time of writing, four of the 104 listed at Evans Cycles sit below the threshold.
Other concerns to their usability include the weight - though this is decreasing, with the newest Shimano Steps E6100 dropping its overall system weight to 2.88kg.
Additional improvement to promote user experience include a longer battery life and decreased q-factor for a more natural riding stance.
Commenting on the findings, Chris Houghton, CEO of Retail for OVO Energy, said: "The Cycle to Work scheme is a popular employee benefit that OVO Energy offers, however, greater access to electric bikes through the scheme would open it up to many more of our employees. We would welcome action from government to make this change happen.
"Today's survey shows there is clear demand for electric bikes and that opening up access to them through the Cycle to Work scheme would get more people cycling."
Steve Edgell, Chair of the Cycle to Work Alliance, commented: "The benefits of electric bikes are clear, in particular for those demographic groups who may not currently feel confident about cycling and for those who live further away from work.
"This research from OVO Energy shows the positive impact that increasing the scheme limit would have on encouraging people to take up cycling across the whole of the UK. We know that employers want to be able to offer electric bikes to their employees through the scheme, so it is pleasing to see employers such as OVO Energy call for action to achieve this.
"The scheme is the simplest and most effective mechanism for making electric bikes affordable and accessible. We're keen to continue working with the Department for Transport and the Treasury to open up access to electric bikes through the Cycle to Work scheme."
Title sponsor of the Tour of Britain, OVO Energy has also been showcasing a range of e-bikes to the public around the country in order to promote the benefits and raise awareness of their value.
Thank you for reading 5 articles this month* Join now for unlimited access
Enjoy your first month for just £1 / $1 / €1
*Read 5 free articles per month without a subscription
Join now for unlimited access
Try first month for just £1 / $1 / €1