Peter Sagan: There should be more respect in the peloton
World Champion Peter Sagan calls for a greater level of respect in the pro peloton and will use his new status to try and change cycling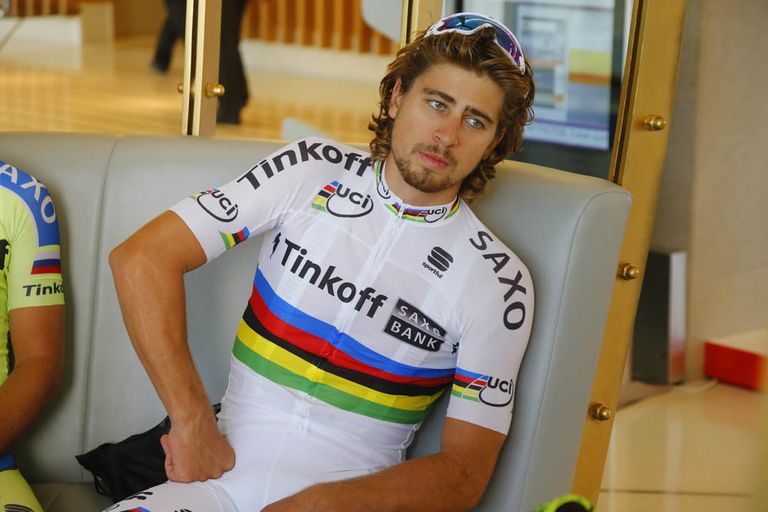 (Image credit: Watson)
Peter Sagan has called for there to be more respect in the professional peloton and hopes his status as world champion can help him change the sport for the better.
In an interview with Het Nieuwsblad, after being named International Flandrien of the Year in Belgium, the Slovak said that the new generation of riders have a bad mentality.
Despite only being 25 years old himself, Sagan has garnered a great deal of respect in the peloton, but claims that it's not universal.
"I want maybe more respect in the peloton," he said. "The respect in the group is like nothing. If I speak with the old guys [about] when Cipollini was in the group or somebody like that, there was lots of respect in the group.
"Now it's like, 'if you don't brake, I don't brake' and we crash. It's very bad mentally in the group now. I don't know if I can change this - it's a big step."
His new rainbow stripes and his remarkable consistency have risen Sagan to a prominent position in the peloton, taking on a spokesman-like role.
Having been involved in a collision with a motorbike at the Vuelta a España, Sagan has first-hand experience of what needs to change in cycling, and is keen to help start that.
"For sure there is some responsibility [that comes] with this jersey," Sagan said of the rainbow jersey he won last month. "I want to do my best next year but also maybe I want to change something in cycling because of lot of things are OK but a lot of things don't work."