Police recover cow cycling sculpture after it was stolen from Box Hill
Life-size cow painted with scene of cyclists on Box Hill was stolen last August, and now recovered by Surrey Police from a local property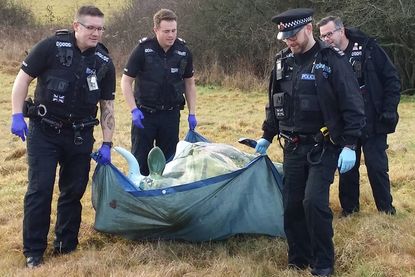 (Image credit: Surrey Police)
Police have recovered a lifesize sculpture of a cow painted with a scene of cyclists that was stolen from Box Hill, Surrey, in August last year.
The 'Cycling Moo Kay' was one of 60 painted fibre-glass cows that were displayed throughout the Surrey Hills last summer as part of the 'Cow Parade Surrey' exhibition.
It was removed from its plinth at the cyclists' favourite café spot during the night of August 18, but now the Mole Valley Policing Team have reported that it has been recovered from a property in nearby Newdigate.
A 40-year-old man has been arrested in connection with the incident, and is in police custody.
The cow was originally decorated by Dorking artist Charles Rowbotham, and paid for by Cycling UK.
It was to have been auctioned off to raise money for Cycling UK and the Surrey Hills Trust Fund. Rowbotham created another cow as a substitute that was auctioned off.
"This morning (Wednesday January 11) officers from the Mole Valley Policing Team executed a search warrant in accordance with The Theft Act, 1968 at a property in Newdigate, and recovered the stolen cow," reported Mole Valley Policing Team via its Facebook page.
"The artist who painted it, Charlie Rowbotham, has been made aware and is delighted.
"Cycling Moo Kay is being returned to the organisers of Cow Parade Surrey. The other cows in last year's parade were auctioned at Hampton Court in November and the money raised shared between 52 different charities."
Paul Tuohy, chief executive of the Guildford-based national cycling charity Cycling UK, said: "We were over the moon when we herd today that Surrey Police have found the original Cycling Moo Kay.
"She was a real bovine beauty and played an iconic part in many of the South East's cycling activities before she was stolen, including watching the thousands of people who pedalled past her on top of Box Hill during the RideLondon event.
"One of our members, Doug Clare, presented her to us last summer to not only help with some valuable fund-raising for our charity, but also to share a bit of the fun that is cycling.
"We were on the horns of a dilemma when she was rustled from the top of Box Hill. But Surrey Hills Cow Parade organisers very kindly provided us with a replacement – Cycling Moo Kay II – which was again superbly painted by the original artist, Charles Rowbotham, and fetched £4,500 at a charity auction at Hampton Court Palace."
Thank you for reading 20 articles this month* Join now for unlimited access
Enjoy your first month for just £1 / $1 / €1
*Read 5 free articles per month without a subscription
Join now for unlimited access
Try first month for just £1 / $1 / €1