How to prepare for a four-day ride
Bloodwise Ride captain and elite triathlete Dan Pinn takes us through his tips for getting in peak physical condition for riding the Bloodwise London to Paris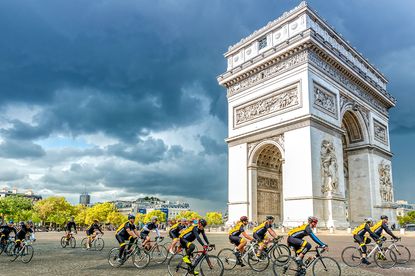 Get The Leadout Newsletter
The latest race content, interviews, features, reviews and expert buying guides, direct to your inbox!
Thank you for signing up to The Pick. You will receive a verification email shortly.
There was a problem. Please refresh the page and try again.
Promotional Feature with Bloodwise
This September more than 250 riders will take on the Bloodwise London to Paris. It's a 500km endurance ride spread across four epic days. With rolling road closures throughout France, there's no stopping at traffic lights or roundabouts for a breather – riders have to be fit and prepared for a serious challenge.
Spend time in the saddle
There's no sugar coating it, 500km is a very long distance – and nothing is going to prepare you better than good old-fashioned hours in the saddle. Ensuring you're there on day one as fit as possible will make the whole experience a lot more enjoyable. When the Eiffel Tower finally peeks over the horizon you want to be able to enjoy that moment in the saddle, not spend it out of breath in the back of the team car. While there's no quick fix to the dreaded saddle sores, racking up the training hours is the best preventative measure – while a decent chamois cream should work wonders if disaster does strike.
Strengthen your entire body
Your legs might provide the grunt that sees you over the steepest hills of northern France, but don't neglect your upper body, as it takes a lot of the impact from the road. Work on your core, legs, back and shoulder strength. Elite cyclists might look thin, but trust me, they're tough all over. Working on your core strength will help with your position on the bike, improve your flexibility and all-round stability. That said, you do need to work on your leg strength too and improve the power of your stroke when you've got to attack those hills. Yoga or Pilates classes are a good addition to any strength routine, helping to improve body strength, flexibility and balance.
Fuel on the move
Obviously your diet in the run up to any event has to be correct – and there's plenty of nutrition advice out there to get you ready. But during the four day ride, cyclists can go for hours between break stops and like the professionals will need to fuel continually during the ride – and as such you need to be comfortable with eating and drinking whilst on the move. We provide the nutrition to keep everyone cycling at peak performance, but it's amazing how many people struggle to reach into their back pocket or down to grab their water bottle. The only way to overcome this is through practice. Learn the layout of your bike, where your water bottle is, where you'll put energy gels, and practice grabbing them out in the run up. It'll save us having to tow you back to the peloton every time you need a snack!
Sign up now at bloodwise.org.uk/london-paris
Plan some indoor intervals
Everyone's experienced getting ready for a ride, only for freezing rain to start lashing down outside. Now, nothing substitutes for miles spent outdoors on the bike – but unless you're completely dedicated it can be tough to clock up the miles sometimes, especially in the winter months. If you're struggling to get in the miles, there's no need to worry. Finding a spin class near you is a great way to improve your strength and fitness. Usually the sessions last around 45 minutes and are a mixture of sprints and hill climbs performed at high intensity. You could even take it on your lunch break so it wouldn't eat into your free time. Alternatively, invest in a turbo trainer – and do some supercharged interval training. However, indoor training will only improve your stamina to a certain point, so as soon as there's a break in the clouds get out there on the road!
>>>Four of the best indoor cycling sessions for turbo training
Get close to your teammates
Over the four day cycle to Paris, riders cycle in three separate speed groups for the most part, and in one 250-strong peloton on a few occasions (like the final stretch down the Champs-Élysées), and you wou'dn't want that amazing spectacle spoiled by two riders bumping into each other! That's why it's really important that cyclists get used to cycle in close proximity with each other. Many people get nervous as it's not something most do every day, so practicing is key. The Bloodwise team run several training rides beforehand to get everyone used to riding in close proximity with other riders. Communication is crucial, talk to the people around you and help each other by pointing out holes in the road or if you need to stop.
>>>Group riding: How to use hand signals (video)
Inspired?
If this advice has inspired you to find out if you're up to the challenge of an endurance ride, there are still a few slots open at the Bloodwise London to Paris.
Sign up now at bloodwise.org.uk/london-paris
Thank you for reading 20 articles this month* Join now for unlimited access
Enjoy your first month for just £1 / $1 / €1
*Read 5 free articles per month without a subscription
Join now for unlimited access
Try first month for just £1 / $1 / €1
Get The Leadout Newsletter
The latest race content, interviews, features, reviews and expert buying guides, direct to your inbox!