Pro cyclists tell us about their favourite junk food
We chatted to several BMC riders at their winter training camp in Dénia, Spain, where we asked them about their favourite food guilty pleasures and how often they indulge...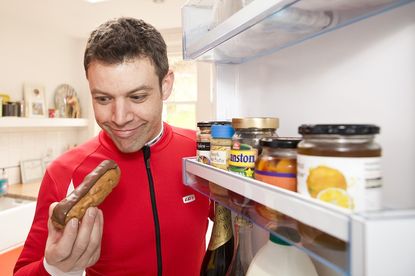 (Image credit: chris catchpole)
As cyclists, having spent most of December eating and drinking far too much chocolate, alcohol and mince pies, we often feel overweight and sluggish in January. If you are feeling guilty, fear not, even professionals indulge in junk food. Despite their super-human capabilities, professional cyclists are humans too and you might be surprised to hear about some of the things they eat and when they eat them. Read on to find out...
Brent Bookwalter: beer and chocolate
With regards to junk food the 30-year-old American told us: "I guess I am a little bit of an everything kind of guy". Brent lives in Asheville, North Carolina and told us that "Asheville has lots of great beer festivals — I love a good IPA."
He went on to add, "I really like chocolate too. Cadel [Evans] taught me that it is OK to eat chocolate. He will often skip dessert and have a chocolate bar back in his room." The BMC domestique told us he would start this year's season in Dubai.
Taylor Phinney: burgers and milkshake
"I feel like I have a lot of guilty pleasures. I like traditional American food that is bad for you like hamburgers and ice cream sandwiches," said the American national time trial champion.
"I really like to dip French fries in milkshake, which is probably the guiltiest of pleasures and probably the weirdest, but that's normal for us Americans. People in the middle of the country eat deep fried butter on a stick and that's where I come from. I have indulged in a lot of food related guilty pleasures over the last seven months of my pseudo retirement/injury."
Tejay van Garderen: pizza
"Definitely wine and beer, but I would say the biggest is pepperoni pizza." Asked how often he allows himself to indulge in his favourite pizza, the 26-year-old grand tour contender replied, "More often that I should! It depends on the day — if you just did a big training day and it was cold outside, it's not a big deal. Leading up to the Tour de France I am strict with the intake, but even then, a little bit of pizza is fine."
Is his weakness for pizza a reason for him not doing the Giro d'Italia? "It could be!" he replied.
Rick Zabel: Haribo
The son of six-time Tour de France green jersey champion Eric Zabel, Rick appeared to have a more focussed approach to his nutrition."Right now, we are at the training camp and the two chefs we have cook really good stuff. It is really hard to avoid eating too much of the really tasty things, but it depends on my training. If I am doing more training, I will eat things with more calories, but if it is a rest day I will try to focus and just eat a salad."
Rick tries to be very disciplined, but admitted that "if you are racing in cold weather and you come back to the team bus and have some Haribo or chocolate, it's a little gift for yourself. This is needed, in my opinion."
Rohan Dennis: chocolate
Rohan Dennis is an up-and-coming stage racer with a strong track background in the pursuit. "My guilty pleasure is definitely chocolate. My biggest problem with it is that if it is a block of chocolate, even 500g, if I open it, I have to finish it. So basically I don't buy it. My girlfriend has made some tim tam slice, which you don't have in England, but it is chocolate with a wafer and soft chocolate in the middle again, so that's a problem for me! I told her to get it out the house as soon as I get home, I don't want to see it!"
When asked about his chocolate addiction in the run up to a big race, such as the Tour of California, Dennis told us: "Funny you should ask — for some of my best races, I have actually eaten a block of chocolate the night before [laughs]. One that comes to mind is the Australian Nationals in 2012 [which Rohan won]. The night before the race I ate about 300g of chocolate and I said to my girlfriend that I was going to win. She told me to stop being so cocky! I think I had so much sugar in my system, I had plenty of stores for the four hours of the race. But it's a two-way street — you have to have really good form too."
In February the 24 year old Australian will attempt the hour record. We wonder if he will have a block of Dairy Milk the night before…?
Greg Van Avermaet: ice cream
The 29-year-old Belgian classics specialist told us" "My weakness is chocolate and ice-cream. Right now it's not that important — I am not too strict on these kind of things. If you start now, it is difficult to keep it going for the whole year, so I have periods where I give myself gifts, but at other periods there will be nothing."
Van Avermaet says his favourite ice crem is stracciatella with chocolate and some coconut, but he left the big surprise until last. Despite being Belgian, he tells us that he is "not a big beer drinker — it's a lot of calories and I am more into food than drinking. I try to get my calories elsewhere."
Thank you for reading 10 articles this month* Join now for unlimited access
Enjoy your first month for just £1 / $1 / €1
*Read 5 free articles per month without a subscription
Join now for unlimited access
Try first month for just £1 / $1 / €1
Oliver Bridgewood - no, Doctor Oliver Bridgewood - is a PhD Chemist who discovered a love of cycling. He enjoys racing time trials, hill climbs, road races and criteriums. During his time at Cycling Weekly, he worked predominantly within the tech team, also utilising his science background to produce insightful fitness articles, before moving to an entirely video-focused role heading up the Cycling Weekly YouTube channel, where his feature-length documentary 'Project 49' was his crowning glory.