Rain shortens Good Friday track meet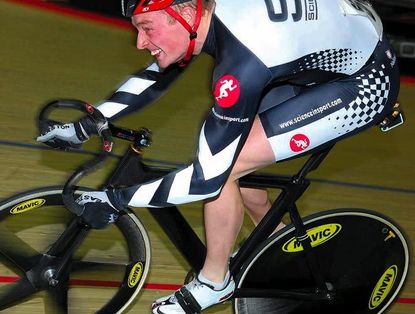 DESPITE the forecasts of rain for Good Friday, the Southern Counties CU annual track meeting at Herne Hill went ahead with bumper crowds, and although the weather eventually called a halt to the day there was some good action for the spectators to enjoy.
Just four races were completed ? and the heats for another ? as organisers finally conceded defeat to the weather at around 4pm. But by then Matt Crampton (Science in Sport) had won the Neovite Sprint with an impressive 10.904sec victory, while World Cup Series gold medallist Chris Newton showed once again his skills in the points race, with a comfortable victory in a classy field.
In other events completed, Team Terminator?s John Paul won the Adept Handicap event from team-mate Lee Povey, while the Catford CC devil was won by Tom Gregory of the Halesowen C&AC, with spots of rain falling already during the action.
?From my point of view it?s a shame that we couldn?t conclude the meeting because it promised to be a good one,? said organiser Graham Bristow. ?But having said that, what racing we did have was good.
?There was no negativity from spectators, they know there?s always a risk that the weather could spoil it and were quite positive about it all. Nobody complained to me anyway.
?People still enjoyed themselves. It isn?t just about the racing ? there are trade stalls and the rollapaluza which is always popular, not to mention the bar.
?People sometimes ask why I don?t move the meeting into May, but it might rain in May as well! Plus, we haven?t had to cancel a meeting for 11 years, so we don?t do as badly as some people think.?
Thank you for reading 20 articles this month* Join now for unlimited access
Enjoy your first month for just £1 / $1 / €1
*Read 5 free articles per month without a subscription
Join now for unlimited access
Try first month for just £1 / $1 / €1