Raleigh grounded despite Truett's best efforts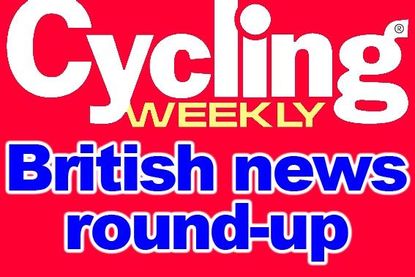 RALEIGH GROUNDED BY VOLCANO DESPITE TRUETT'S BEST EFFORTS
Raleigh's hopes of getting to the Tour of Mexico were dashed at the weekend despite team manager Chris Truett's best efforts to get them there.
A private flight from BA at the eleventh hour looked like it would get the team there in time for the race but that was cancelled as well.
"We were at Manchester airport for about 14 hours in the end," said Truett. "We arrived at four in the morning but our flight was delayed twice so in the end we got two cars up from Nottingham to get us down to London for another flight.
"That one got cancelled and another one as well. We then had that private flight from Manchester the next day and that got cancelled too. We ended up spending about £2,500 on hotels, food and petrol, which I'm pretty depressed about."
The mood in the camp was nevertheless buoyant despite the bad luck. "The lads were very good about it and just wanted to keep waiting," Truett explained, "but we had to give up in the end".
Every cloud (no pun intended) has a silver lining it seems and the team was featured on more than one occasion on both BBC and Sky News.
"We had more publicity from not going to the race!" Truett joked.
The team now hopes to gain entry for the CiCLE Classic at the weekend.
The Raleigh squad will be hoping for some better luck



DOWNING TOP RAPHA MAN IN THE STATES BUT CAN THEY GET BACK FOR RUTLAND?
Dean Downing was Rapha Condor Sharp's top finisher in the Tour of the Battenkill yesterday, a 200km slog around New York state akin to a US equivalent to Paris-Roubaix.
Downing put in a solid performance to claim 15th, while fellow Brit Alex Dowsett (Trek Livestrong) was eighth.
After the post-race excitement wears off, the team now faces the challenge of getting back to the UK and contesting the CiCLE Classic at the weekend.
Four of the team's riders in the US are due to take part: Downing, Dean Windsor, Matt Cronshaw and Jonathan Tiernan-Locke.
The team was heading to the airport when Cycling Weekly spoke to them, "but I'm not holding out much hope of actually being able to fly; we're very much in the lap of the gods," said team manager, John Herety.
DALBY TO GO AHEAD AS PLANNED
The clouds from the volcano in Iceland may have caused chaos throughout Europe but the Cross-Country World Cup in Dalby Forest, Yorkshire, scheduled for April 23-25, will go ahead as planned.
The event will remain a full point scoring round for the overall World Cup standings, with teams encouraged by the UCI to make every effort to get to Dalby Forest in time for official training on Friday.
A number of riders, including those from Australia and Canada, have arrived in Yorkshire, with more expected to arrive in the coming days.
British Cycling has reached an arrangement with P&O Ferries to ensure that travel requirements for teams in Europe are prioritised. The full event infrastructure, including timing and TV, is in place for the weekend.
YATES ON TOP IN SOMERSET

Simon Yates claimed a solo victory in round two of the Junior Road Race Series in Somerset on Sunday.
The Maxgear rider broke away from a select group of riders to win alone by some 13 seconds, ahead of Lewis Balyckyi - who now leads the series - and Sam Harrison.
Daniel McLay, who was second in the junior Paris-Roubaix last weekend, was fifth.
Junior Road Race Series Round Two:

1. Simon Yates Maxgear RT 3:26
2. Lewis Balyckyi Team Wallis - CHH at 0-13
3. Sam Harrison Planet X Road CC
4. Tom Moses Glendene CC at 1-08
5. Daniel McLay Hargroves Cycles at 1-30
CELEBRATE DAVE ORFORD'S 80th BIRTHDAY

Dave Orford is turning 80 on May 28 and is inviting cyclists to celebrate the occasion.
Orford is an ex-veterans world champion and the organiser of over 300 cycling events during the 50s, 60s and 70s. He also secured sponsorship for the Milk Race.
All past and present team-mates and contemporaries are cordially invited to join Dave's friends and family at a surprise birthday party on the Friday May 28 (including free buffet) to celebrate.
As places are limited, in the first instance please contact Pete Ryalls on:
01246 413515 or Ryalco@BTInternet.com
Or write to: 11 Devonshire Close, Dronfield, Derbyshire, S18 1QY to secure your invitation.
Thank you for reading 20 articles this month* Join now for unlimited access
Enjoy your first month for just £1 / $1 / €1
*Read 5 free articles per month without a subscription
Join now for unlimited access
Try first month for just £1 / $1 / €1