RECYCLE YOUR TYRES IN THE NAME OF FASHION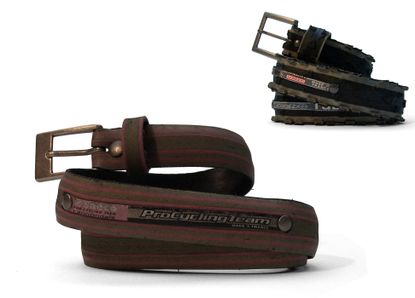 We?re all different, so why not express your individuality and do your bit for the environment at the same time? Velo-re is a small (they only have three employees) but very cool company based in London that turns used bicycle tyres in to functional and fashionable belts.
Old tyres are collected by bike on a ?trailer run? around London's cycle shops. On one occasion I spoke to Bettina Galizzi from Velo-re she was doing just this. She apologised for being out of breath when I called, saying she had a trailer loaded with over 80 tyres! Keeping it real, how cool is that?
Each tyre is carefully selected, washed and finished by hand in Velo-re's workshop. All belts are unique with the treads bearing the scars, flints and knicks of every mile cycled, and come with a tag of authenticity.
You can choose from a range of slick or semi slick treads and buckle styles, which I have to say are cool in themselves. But if you?re looking for the ultimate in custom belt fashion it?s also possible for Velo-re to make you a belt from your very own tyre.
So, get digging in the garage for that tyre that?s sat around doing nothing. Maybe you?ve got a favourite, or a particular tyre that got you through a 'big ride' but is now too worn to be of service. Maybe you've still got the tyre that you won your first race on. You can even use the name of the tyre and sidewall logos as tags on the belt for the ultimate cyclist bling factor.
Personally I couldn?t resist giving my loyal Hutchinson Fusion Saeco Team Edition road tyre and Hutchinson Scorpion Tubeless mountain bike tyre a second life, especially since both had been with me when it mattered most. The Fusion was used during La Marmotte and L?Etape du Tour in 2006 and the Scorpion got me through 200 miles of South Downs Double insanity without fault.
Prices are in the region of £30-40 depending on your customisation requirements, for example if you are putting logo/tags on. Their service is slick (sorry, no pun intended) and it couldn?t be easier to order.
Visit www.velo-re.com for details
Thank you for reading 20 articles this month* Join now for unlimited access
Enjoy your first month for just £1 / $1 / €1
*Read 5 free articles per month without a subscription
Join now for unlimited access
Try first month for just £1 / $1 / €1