Remembering David Duffield: Our favourite lines from his cycling commentary
David Duffield sadly passed away on Sunday. Here we pay tribute to his cycling commentary genius, which enlivened many a race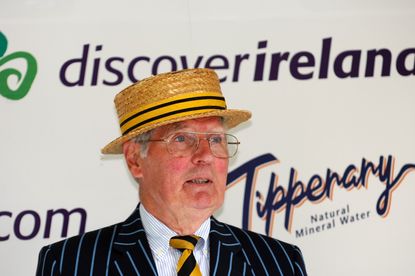 (Image credit: Andy Jones)
Former Eurosport commentator and British cycling luminary David Duffield died aged 84 on Sunday as a result of a heavy fall.
Anyone who watched cycling on Eurosport during the 1990s and 2000s will be familiar with the name and voice of Duffield. The veteran commentator guided fans through countless hours of bike races with a unique mixture of insight, asides, witticisms and his opinion on the local cuisine.
Duffield - or Duffers as he was affectionately known by many - possessed an unusual armoury of phrases and descriptions, which he would often use when you least expected them.
Many of his sayings have found their way into common language used by cyclists, particularly when describing a race.
Here we share some of his many fine moments, and also present a few video clips of Duffield in action. His contribution to the world of cycling will live on.
https://www.youtube.com/watch?v=86w6Rw9FJ4c
"He goes round corners like a fifty-pence piece"
"It's curtains for Karpets"
"Max Sciandri of Great Britain on the front there at the moment. The Derby-born Italian, or Italian Derby-born Englishman, on the front"
"Rough end of a ragman's trumpet"
"And the proverbial has hit the fan"
"He weighs seven stone wet-through"
https://www.youtube.com/watch?v=IzZ-uFh6OZs
"It's about as useful as a chocolate chainring"
"Tell us about the [Paris-Roubaix] showers Sean - is the water always cold?"
"It's not all beer and skittles by any means"
https://www.youtube.com/watch?v=mL3jQmkj3uI
"If you can't stand the heat of the kitchen then don't come into it"
"It's a bit dark over Bill's mother's"
"He parts his hair with a chamois leather"
"Turn your granny to the wall"
https://www.youtube.com/watch?v=fCQDqI8lpik
"He's so far down on GC you could time him in with a calendar"
"If you've got a grandmother in a wheelchair, now's the time to take her for a walk so she needn't see this"
"Riding himself to a standstill"
"Coming into the finish like a dose of salts"
"The much revered Tom Simpson is much missed. How he would have been great being here in the commentary point, but up there somewhere, he's watching now."
Thanks to the Duffield tribute pages on http://bikesy.co.uk, where you can find many more commentary gems.
Thank you for reading 5 articles this month* Join now for unlimited access
Enjoy your first month for just £1 / $1 / €1
*Read 5 free articles per month without a subscription
Join now for unlimited access
Try first month for just £1 / $1 / €1