REVIEW THE YEAR WITH CYCLE SPORT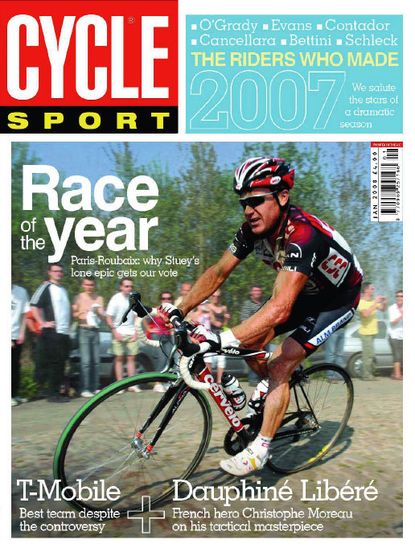 What a year. Controversy may have dogged professional cycling yet again this year, but that shouldn't be allowed to overshadow all of the good stuff. In this month's Cycle Sport magazine, you can re-live the very best moments of 2007 in the magazine's round-up of the season.
CS picks out the best races of the year and looks at the riders who made a mark: Fabian Cancellara, Alberto Contador, Stuart O'Grady, Cadel Evans, Andy Schleck and Paolo Bettini are all selected as Cycle Sport's Men of the Year.
Also in the review, CS ranks the ProTour teams in order of achievement, with some fairly surprising results.
Of course, it wouldn't be a review of such a tumultuous season without mention of the baddies too: from Michael Rasmussen's lies to Andrey Kashechkin's bizarre outburst on Eurosport.
There's also the usual mix of exclusive photography, analysis and results round-up that readers of Cycle Sport have come to expect from the premier magazine for fans of professional cycle racing.
Cycle Sport January 2008 is available now from WHSmith, major supermarkets and all good newsagents priced £4.
CYCLE SPORT JANUARY 2008: FEATURE LIST
* Fabian Cancellara: Raise another glass to the toast of London
* Alberto Contador: The Tour de France winner living in the shadows
* Stuart O'Grady: Unsung hero from Adelaide
* Cadel Evans: Master of anti-panache
* Andy Schleck: It?s all in the genes for Andy
* Paolo Bettini: The man who beat the Worlds curse
* T-Mobile: How our team of the year beat their demons
* Bloopers: We draw up a list of this year?s biggest pratfalls
* Paris-Rouabaix: The heat was on at this year?s Hell of the North
* Dauphine Libere: Is this warm-up race the new Tour de France?
* Runner-up races: We review the best of the rest of 2007
* Team report: We?ve ranked the ProTour teams from one to 20
* Expert view: A crack panel reviews the ups and downs of the year
* Eyewitness: The team give their on-the-spot accounts of a year in racing
* Caribbean camp: T-shirt suntans galore as we catch up with the peloton?s pin-ups
* Quiz time: Cycle Sport?s Christmas Quiz ? test your knowledge
* 12 DVDs of Christmas: Forget It?s a Wonderful Life, watch these instead
* Shop window: Our pick of this month?s products ? get your cash ready
* Broomwagon: Serving up a Christmas feast of giggles
RELATED LINKS
Cycle Sport: www.cyclesport.co.uk.
Thank you for reading 20 articles this month* Join now for unlimited access
Enjoy your first month for just £1 / $1 / €1
*Read 5 free articles per month without a subscription
Join now for unlimited access
Try first month for just £1 / $1 / €1