Riders collide on London cycle superhighway (video)
A dangerous manoeuvre on one of London's segregated cycle superhighway causes an incident that could have been a lot more serious. Plus read on for more of the best recent cycling videos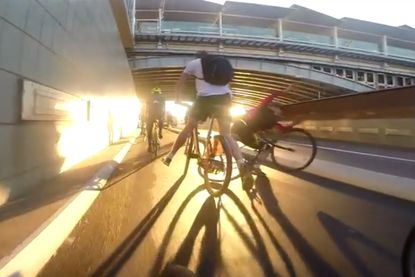 London commuter cyclist and helmet camera user 4ChordsNoNet has published the moment he captured footage of a collision on one of the capital's busy cycle superhighways.
Riding on the CS3, on what looks like the section under Blackfriar's Bridge, the rider is passed by another who soon after causes a collision.
The overtaking rider is forced wide by someone on a Santander hire bike and rides head-on into the cyclists coming the other way.
In the description below the video on YouTube, 4ChordsNoNet implores people to slow down and take more care when using the cycle infrastructure, and notes that: "What was very worrying was that one of the cyclists travelling in the opposite direction ended up on the main carriageway.
"Fortunately for him the phasing of the lights meant that the traffic had been held back, otherwise we could have been talking serious or fatal injuries."
Danny MacAskill's Wee Day Out
https://www.youtube.com/watch?v=K_7k3fnxPq0&feature=youtu.be
Danny MacAskill is back with a new video, and this one is a slight departure from his usual edits. He catches a steam train to the countryside, and rides a combination of standard trials, single track and even emerges from a massive puddle.
Fun to watch, and no doubt ride, this is another great outing for the Scottish trials star. The out takes at the end are good, too.
Cyclist helps confused car enthusiast
On an unopened part of the new network of cycle lanes, car enthusiast and long-ago presenter of Top Gear Quentin Wilson has ruffled feathers with a misleading tweet about the lack of bicycles being ridden on the segregated cycleways.
Taken at face value, the obvious answer here is that - as anyone who's ridden in London will know - cycling is so much more efficient in terms of journey speed and space occupied that any number of riders could have got through the last green light while the cars on the right would have barely moved.
As perfectly summed up here:
Besides, it later transpired that all was not as it seemed in Wilson's photograph anyway, as Twitter user Londonneur pointed out in this helpful video:
How to climb Rosedale Chimney
For the latest in our series on how to climb famous hills and mountains, Simon Warren talks you through how to conquer Rosedale Chimney in the North York Moors.
A brutal ribbon of tarmac that rears up into view on the approach, this climb requires an all or nothing effort to keep the wheels turning and get you to the summit.
October's best cycling products
Filming a new location, Cycling Weekly's tech team deliver the rundown on the best products around this month.
A bright bike light gets a great review, and the team discuss a pair of shoes, a helmet and a pretty special new bike.
Singapore fixed gear crit
https://www.youtube.com/watch?v=HoirG5ijfxQ
Warning: video contains (wholly unnecessary) swearing
Holy Crit VI took place on an 800 metre circuit in Singapore for riders on fixed gear track bikes, in an event similar to the Red Hook Crit which takes place in a number of cities around the world.
>>> The bike the Red Hook Criterium rider smashed was one he had borrowed (video)
Fast, frenetic racing on the low-lit streets of the city-state looked like a great spectacle for onlookers. However, it's since been reported that the organisers have received short custodial sentences and hefty fines after they failed to gain written permission from the police ahead of the event.
Eric Khoo Shui Yan and Zulkifli Awab were each handed a seven day prison term and ordered to pay S$5000 (£2868), after pleading guilty to charges under the Road Traffic Act.
Thank you for reading 10 articles this month* Join now for unlimited access
Enjoy your first month for just £1 / $1 / €1
*Read 5 free articles per month without a subscription
Join now for unlimited access
Try first month for just £1 / $1 / €1
Jack Elton-Walters hails from the Isle of Wight, and would be quick to tell anyone that it's his favourite place to ride. He has covered a varied range of topics for Cycling Weekly, producing articles focusing on tech, professional racing and cycling culture. He moved on to work for Cyclist Magazine in 2017 where he stayed for four years until going freelance. He now returns to Cycling Weekly from time-to-time to cover racing, review cycling gear and write longer features for print and online. He is not responsible for misspelled titles on box outs, and he lost the argument about using UK spellings