Riders react to the cancellation of stage three at Paris-Nice
Riders backed the decision to cancel stage three of Paris-Nice due to adverse weather conditions, with many of them taking to Twitter to discuss the situation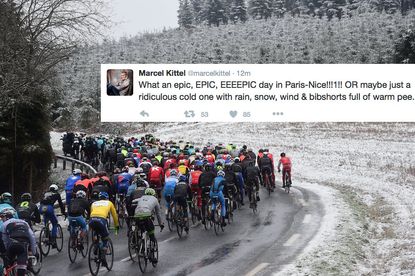 (Image credit: Watson)
Not long after they'd had a warm shower and changed out of their drenched cycling clothes, many of the riders from Paris-Nice took to Twitter to talk about the stage's cancellation.
Organisers decided to cut stage three short, cancelling it completely just before the 100km mark because of snow and freezing temperatures on the course.
Many interested observers questioned whether the UCI's Extreme Weather Protocol should be called into action, but few knew exactly what could be done mid-race.
Andre Greipel was one to question why the riders were allowed to start the race when there was already snow at the feed point.
Greipel's fellow German Marcel Kittel had a pretty disgusting way of keeping warm out on the road.
Luke Rowe shared Greipel's thoughts about the knowledge of the weather conditions before the stage.
He and Ian Boswell took refuge in sport director Gabriel Rasch's car when the stage was abandoned.
Geraint Thomas explained just why the stage was cancelled - the safety of the riders was more important than completing the stage.
IAM Cycling's Dries Devenyns made the best joke of the day about a Spanish cyclist and an Italian skiier.
He's not racing there, but Joaquim Rodriguez is a fan of the organiser's decision
Some social media users are calling the riders 'soft' for not continuing in such conditions, but Cannondale boss Jonathan Vaughters insists the riders can handle such conditions - the bikes can't though.
Thank you for reading 20 articles this month* Join now for unlimited access
Enjoy your first month for just £1 / $1 / €1
*Read 5 free articles per month without a subscription
Join now for unlimited access
Try first month for just £1 / $1 / €1