Sarah Storey: I expect to feel Eddy Merckx-like pain during Hour Record
Dame Sarah Storey will attempt the Hour Record on February 28 and fully expects to feel the same 'incredible pain' that Eddy Merckx felt in 1972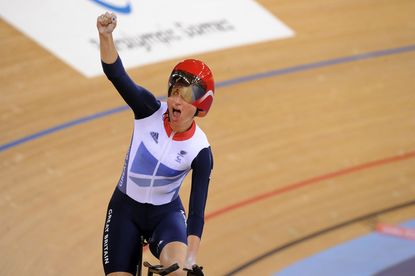 Dame Sarah Storey is well aware of the pain she will put herself through when she attempts the women's Hour Record on February 28.
Storey will have to ride further than the 46.06m mark set by Leontien Zijlaard-Van Moorsel in 2003 when she hits the boards of the Lee Valley VeloPark next month.
And in an interview with the Guardian's Donald McRae, Storey admits she expects the feel the 'incredible pain' that the great Eddy Merckx experienced in his 1972 record.
"No. I fully expect to feel that as well," she said. "I don't think the pain is in any doubt and I'm sure it will be the longest hour. It's the unknown that can be the most unsettling – but that's the physiological and mental challenge.
"In a way you feel you should do the hour a couple of times before attempting the record. But because of the pain you might never want to do it again – like Merckx said. It's going to be interesting."
Storey won four gold medals at the 2012 Paralympic Games, having narrowly missed out on selection for Team GB's Olympic squad.
And while the 37-year-old, who has 22 Paralympic medals to her name in total, is used to physically challenging herself on a regular basis, it is also the mental aspect of the Hour that will test her.
"I'm used to pushing myself hard in races but this is relentless," she said.
"There's no swinging up the banking for a breather and coming down to sit on someone's wheel for the final 100m.
"It's just me and the clock for one whole hour. A point will come when it's like you've hit the 18-mile mark in a marathon and you start thinking: 'What am I doing.'
"So it's as much a mental challenge because there is no freewheeling and you're riding relentlessly, following that black line.
"It seems crazy … and if you ask me why I'm doing it I'll probably only be able to explain it properly once I've finished."
Thank you for reading 20 articles this month* Join now for unlimited access
Enjoy your first month for just £1 / $1 / €1
*Read 5 free articles per month without a subscription
Join now for unlimited access
Try first month for just £1 / $1 / €1