Another gold for Storey in Paralympic time trial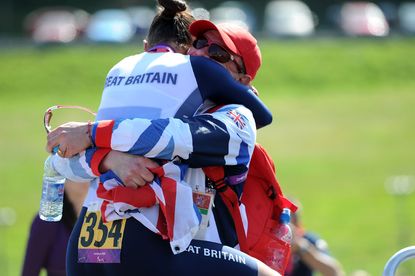 Get The Leadout Newsletter
The latest race content, interviews, features, reviews and expert buying guides, direct to your inbox!
Thank you for signing up to The Pick. You will receive a verification email shortly.
There was a problem. Please refresh the page and try again.
Sarah Storey moved closer to becoming Britain's most decorated female Paralympian as she raced to victory in the Women's C5 Time Trial at Brands Hatch this afternoon.
Storey now sits on 10 golds, just one behind Tanni Grey-Thompson's tally, after a crushing win against the clock.
The 34-year-old beat her nearest rival by over 90 seconds in the 16km event in a time faster than some of her male equivalents in the same category over the same distance.
"I'm absolutely delighted. It's amazing to be able to get around the circuit so quick," she said afterwards, before adding that her proximity to Grey-Thompson on the all-time gold medal list was flattering.
"To be anywhere near Tanni is incredible. I can't believe I've been put on the same page as her. She's a good friend, an incredible athlete and such a lovely girl. Just to even be thought of her in the same breath is an honour, whether or not tomorrow [the Women's C5 road race] goes my way."
Behind Storey, Britain's Crystal Lane finished ninth in her second event of these Games.
Elsewhere, Mark Colbourne took his third medal - his second silver - of the Games in the Men's C1 event. The 42-year-old finished 13 seconds behind defending Paralympic champion Michael Teuber (Germany) on a course which wasn't suited to him.
He said: "I tried to pace it as best as I could. I went out pretty carefully on the first lap. I'm happy with my silver. I'm catching Michael Teuber month by month. You can't rush nature. Michael's been riding 12 years, I've been riding nearly two.
"If you look at the course, with my disability - no hamstrings, no feet working, no glutes [gluteus maximus muscles] working - you put me on a 11% hill and it's like someone's taken my batteries out.
"[There are] different disabilities in the C1 category. On a hilly course like this it does suit different disabilities," he added.
There were medals at the end of the day, too, for Great Britain as hand-cyclist Karen Darke took second in the Women's H1-2 Time Trial, before David Stone snuck onto the podium in the Mixed T1-2 event. For Darke - making her Paralympic debut - it continues her improvement in results that has seen her go from finishing fourth in the 2010 World Championships and third in last year's worlds in Copenhagen. Unfortunately for Stone, he wasn't able to take successive victories in his category following success in Beijing four years ago, but once again classification changes and an increase in standard across the board affected British riders the most.
Unfortunately there was more heartbreak for tandem duo of Lora Turnham and Fiona Duncan, who finished seventh in the Women's B Time Trial. The pair, who finished fourth in both their events in the Velodrome, were fastest over the first two laps of the 8km course, but mechanical troubles on the final lap cost them dear.
"The girls were doing well, but as they started the climb, when they changed gear it pulled across the mech and created a huge metal break that essentially shut the bike down straight away," explained coach Tom Stanton.
"The mechanic was great, he got out and fixed it straight away, but spending 60 seconds recovering from that was a blow."
Jon-Allan Butterworth wasn't able to follow up his three silver medals from the Velodrome as he finished 12th in the Men's C5 Trial, four-and-a-half minutes behind Ukranian Yegor Dementyev.
Butterworth was almost forced to miss the event after a crash in training yesterday involving one of Britain's tandem pairings, believed to be Turnham and Duncan.
"I didn't know if I was going to start today," he said. "I was feeling it [the injuries] as I was riding round. I wouldn't have won anyway but it definitely had an impact on my performance.
"I didn't know much about it [the crash]. I don't know how it happened. It wasn't malicious. I was in front, they came from behind and before I knew what happened I was halfway towards the tarmac. Hit my handlebars and took my steering out," Butterworth added.
Lewisham-born Shaun McKeown narrowly missed out on adding another medal to his silver in the C3 Pursuit from the Velodrome. McKeown had to settle for sixth in the 16km time trial, despite having trained around the course for the past few months.
"It was hard work. I always knew it would be. The heart was pumping, the legs were working. I gave it everything I possibly could," said McKeown. "I didn't have a target time in my head. I enjoyed it. To have that home support was amazing. You can hear the crowd. My club's [Avanti, in Orpington] are based it.
"I was going round here, weeks and weeks before the races kicked off. For road racing this as good as it gets [for us]," he added.
Results

London 2012 Paralympic Games, time trials, Brands Hatch Circuit
Men's C5 Time Trial, 24km
1. Yegor Dementyev (Ukr) 32-12.98
2. Xinyang Liu (Chn) 32-21.03
3. Michael Gallagher (Aus) 33-12.03
Brits
13. Jon-Allan Butterworth (Gbr) 36-56.39
Men's C4 Time Trial, 24km
1. Jiri Jezek (Cze) 32-59.92
2. Carol-Eduard Novak (Rou) 33-06.93
3. Jiri Bouska (Cze) 33-34.92
Men's C3 Time Trial, 16km
1. David Nicholas (Aus) 23-22.13
2. Joseph Berenyi (USA) 23-31.73
3. Masaki Fujita (Jap) 23-55.53
Brits
6. Shaun McKeown (Gbr) 24-44.37
Men's C2 Time Trial, 16km
1. Tobias Graf (Ger) 24-53.12
2. Guihua Liang (Chn) 24-40.33
3. Maurice Eckhard Tio (Spa) 24-40.76
Men's C1 Time Trial, 16km
1.Michael Teuber (Ger) 25-16.43
2. Mark Colbourne (Gbr) 25-29.37
3. Zhang Yu Li (Chn) 26-23.11
Women's C5 Time Trial, 16km
1. Sarah Storey (Gbr) 24-40.66
2. Anna Harkowska (Pol) 24-14.94
3. Kelly Crowley (USA) 25-14.51
Brits
9. Crystal Lane (Gbr) 27-33.44
Women's C4 Time Trial, 16km
1. Megan Fisher (USA) 26-04.39
2. Susan Powell (Aus) 26-31.30
3. Marie-Claude Molnar (Can) 26-48.52
Women's C1-3 Time Trial, 16km
1. Allison Jones (USA) 26-59.54
2. Denise Schindler (Ger) 28-45.36
3. Tereza Diepoldova (Cze) 27-47.91
Men's Individual B Time Trial, 24km
1. Christian Venge w/Davide Llaurado Caldero (Spa) 30-48.25
2. Ivano Pizzi w/Luca Pizzi (Ita) 30-50.41
3. James Brown w/Damien Shaw (Irl) 31-13.00
Women's Individual B Time Trial, 24km
1. Kathrin Goeken w/Kim van Dijk (Ned) 35-02.73
2. Phillip Gray w/Laura Thompson (Nzl) 35-07.68
3. Catherin Walsh w/Francine Meehan (Irl) 35-29.56
Brits
7. Lora Turnahm w/Fiona Duncan (Gbr) 36-29.27
Men's H4 Time Trial, 16km
1. Alex Zanardi (Ita) 24-50.22
2. Norbert Mosandl (Ger) 25-17.40
3. Oscar Sanchez (USA) 25-35.26
Men's H3 Time Trial, 16km
1. Rafal Wilk (Pol) 25-24.17
2. Nigel Barley (Aus) 26-18.34
3. Bernd Jeffre (Ger) 27-00.90
Men's H2 Time Trial, 16km
1. Heinz Frei (Sui) 26-52.39
2. Walter Ablinger (Aut) 26-57.25
3. Vittorio Podesta (Ita) 27-01.98
Men's H1 Time Trial, 16km
1. Mark Rohan (Irl) 35-41.54
2. Koby Lion (Isr) 35-53.30
3. Wolfgang Schattauer (Aut) 38-02.35
Women's H4 Time Trial, 16km
1. Andrea Eskau (Ger) 28-18.09
2. Dorothee Vieth (Ger) 30-00.27
3. Laura de Vaan (Ned) 30-24.82
Women's H3 Time Trial, 16km
1. Sandra Graf (Sui) 33-22.61
2. Monica Bascio (USA) 33-39.26
3. Svetlana Moshkovich (Rus) 34-08.48
Women's H1-2 Time Trial, 16km
1. Marianna Davis (USA) 31-06.39
2. Karen Darke (Gbr) 33-16.09
3. Ursula Schwaller (Sui) 34-56.55
Mixed T1-2 Time Trial, 16km
1. Carol Cooke (Aus) 13-50.54
2. Hans-Peter Durst (Ger) 14-11.95
3. David Stone (Gbr) 14-25.66
Sarah Storey scores time trial gold
David Stone celebrates his bronze medal
Mark Colbourne and his silver
Jon-Allan Butterworth and injuries from a training accident
Karen Darke
Latest news
Cundy gategate: The reaction
Comment: The commissaire's revenge?
Cundy goes for patriotic look on new racing leg for London
London 2012 Paralympics cycling event schedule
GB team named for London Paralympics
Reports
Road day one: Another gold for Storey in time trial
Track day four: Tandem sprint gold for Kappes and MacLean
Track day three: Sarah and Barney Storey lead the headlines in the velodrome
Track day two: Colbourne takes gold, Cundy is disqualified in day of mixed fortunes for GB
Track day one: Storey takes gold
Photos
Track day three (afternoon) by Andy Jones
Track day three (morning) by Andy Jones
Track day two (afternoon) by Andy Jones
Track day two (morning) by Andy Jones
Track day one (afternoon) by Andy Jones
Track day one (morning) by Andy Jones
Schedule of events
London 2012 Paralympics cycling event schedule
Related links
London 2012 Olympic Games coverage index
Thank you for reading 20 articles this month* Join now for unlimited access
Enjoy your first month for just £1 / $1 / €1
*Read 5 free articles per month without a subscription
Join now for unlimited access
Try first month for just £1 / $1 / €1
Get The Leadout Newsletter
The latest race content, interviews, features, reviews and expert buying guides, direct to your inbox!
Nick Bull is an NCTJ qualified journalist who has written for a range of titles, as well as being a freelance writer at Beat Media Group, which provides reports for the PA Media wire which is circulated to the likes of the BBC and Eurosport. His work at Cycling Weekly predominantly dealt with professional cycling, and he now holds a role as PR & Digital Manager at SweetSpot Group, which organises the Tour of Britain.