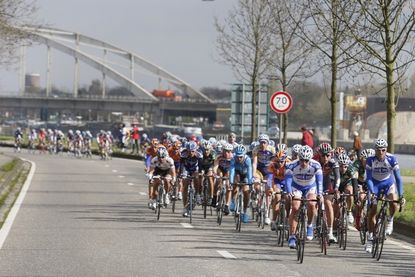 (Image credit: LUC CLAESSEN)
Yesterday Manxman Mark Cavendish won the Scheldeprijs Vlaanderen for the second, consecutive year.
Cavendish burst through in a chaotic sprint finish, passing an already celebrating Tom Boonen who thought he had the race in the bag.
Here we take a look back at the race courtesy of Luc Claessen's photos of the day's action.
RELATED LINKS
Cavendish beats Boonen in Scheldeprijs sprint
Cavendish on his Scheldeprijs sprint win
All photos by Luc Claessen/ISPA
The riders line up in the town square of Antwerp, Belgium, for 96th edition of the Scheldeprijs Vlaanderen
Riders leave Antwerp for 200km of flat but tough roads and cobbles that make up the semi-Classic Scheldeprijs
Bradley Wiggins was one of seven Brits in the race, finishing 82nd. Geraint Thomas and Steve Cummings were there for Barloworld, finishing 24th and 69th respectively, whilst Ian Stannard, Paul Manning and Ed Clancy were riding for Landbouwkrediet, coming in 31st, 52nd and 103rd. Stannard even launched a lone attack 19km from the finish line - a fantastic ride for him today
Mark Cavendish wears the number one having won the event last year
Despite a mid-race stack, Steve Cummings (above and below) still finished the race
Veteran sprint star Erik Zabel is still a force to be reckoned with, and came fourth
Quick Step drive the pace over the cobbles for team leader Tom Boonen
Stopping for a train crossing provides an ample opportunity to water the Belgian undergrowth
Tom Boonen (middle) looks in the perfect spot to take the race...
...but who's that coming up on Boonen's left...
...Boonen thinks he's got it and starts to raise his arms...
... and then catches sight of Cavendish on his left hand...
... squeezing past to take the win...
...leaving Quick Step to wonder where the Manx Missile had come from
Looking emotional, Mark Cavendish takes the prize on the podium
Despite the finish line mix-up, Boonen joins in the podium celebrations with Cavendish
Cavendish has a fit of laughter after slipping on Champagne during podium celebrations
Everyone looks happy on the podium - another great win for Brit sprint star Mark Cavendish, with Tom Boonen (l) in second and Robbie McEwen (r) third
Thank you for reading 5 articles this month* Join now for unlimited access
Enjoy your first month for just £1 / $1 / €1
*Read 5 free articles per month without a subscription
Join now for unlimited access
Try first month for just £1 / $1 / €1