How secure is communal bike parking?
Communal bike storage may not be as secure as you might think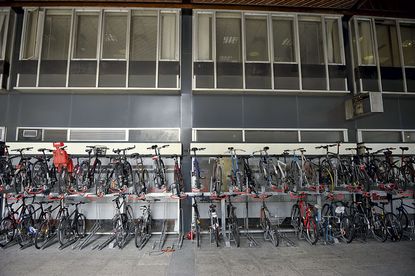 (Image credit: Rupert Fowler)
Get The Leadout Newsletter
The latest race content, interviews, features, reviews and expert buying guides, direct to your inbox!
Thank you for signing up to The Pick. You will receive a verification email shortly.
There was a problem. Please refresh the page and try again.
Storing bikes at home is easy enough for those of us who have (or think we have) room for a stable of machines inside. For those of us without room (or permission) indoors, keeping bikes at home can be costly and, if someone steals our pride and joy, heartbreaking.
Bike storage: a buyer's guide to at home solutions
We know cycle theft has a profound effect on participation in cycling. Previous research has shown that 24 per cent of those who've had a bike stolen stop cycling altogether, while 66 per cent cycle less often.
More than two-thirds of bikes are pinched from home, and according to the Crime Survey for England and Wales, in more than half of cases, the bike is taken from a semi-private location defined as "outside areas on the premises, garages or car parks around but not connected to the home".
Shared storage areas, common in flats, are tempting targets. The problem, according to Alastair Worlidge of Bike Dock Solutions, which provides bike racks and sheds to homes and businesses, is that people are lulled into a false sense of security in semi-private locations.
"In terms of products, we supply the same to new builds as we do to the Shard and Westfield [shopping centre], but I guarantee that the locks used and how people are locking them will be different," he said.
"[I've lost count of] the number of times I have gone into a housing development and people have just locked the front wheel."
Stolen Bikes UK is a website where victims of bike theft can share information with the cycling community. John Moss, who runs the site, says dedicated shared cycle parking is fine if racks are fit for purpose, with CCTV and access limited to registered users. But often this is not the case.
"I believe [bikes] are going missing simply because the racks and the areas they are in are often poorly lit and/or have a small passing footfall," Moss said.
"This means that thieves can steal a bike with very limited risk of being disturbed, especially during the night.
"In some cases, victims assume that, just because access is limited, they don't need to secure their bike; this is a mistake, as it's not uncommon for thieves to gain access by following a cyclist into the area."
Bike theft is often opportunistic, said Worlidge, and shared lock-ups' security needs to be regularly updated, with owners locking bikes as they would in a public place.
He added: "It is about having a dedicated enclosure with secure access with card readers' codes and locks regularly changed."
Police advice on storing bikes in shared parks
Don't let your guard down when parking your bicycle in dedicated cycle parking at your home — use the same measures you would when parking on the street.
Even if your bike is parked in a secure area, always lock it to something immovable, ideally using two good-quality locks — we recommend Gold Sold Secure standard.
If it is a gated park, make sure nobody has followed behind you.
Take removable parts such as saddles or wheels with you — or secure them to your bike using secure skewers.
Promotion
Cycleplan is currently offering a 20 per cent discount to Cycling Weekly readers. Click here for more details
Thank you for reading 20 articles this month* Join now for unlimited access
Enjoy your first month for just £1 / $1 / €1
*Read 5 free articles per month without a subscription
Join now for unlimited access
Try first month for just £1 / $1 / €1
Get The Leadout Newsletter
The latest race content, interviews, features, reviews and expert buying guides, direct to your inbox!