Spectator insists role in Loren Rowney crash was unintentional
Tour of Drenthe organisers tell Dutch media that the man involved in Loren Rowney's crash stuck his arm out when his son tugged on his jacket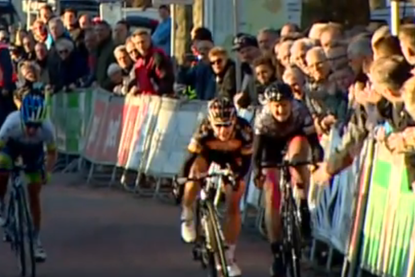 The spectator who caused Australian rider Loren Rowney to crash in the sprint to the line at Tour of Drenthe last week insists it was not intentional.
Rowney, who rides for Velocio-SRAM, hit the floor in the final metres after her handlebars hit the hand of a spectator. She suffered a broken collarbone in the crash.
But race organiser Femmy van Issum told Wielerfiets.nl that the man in question was completely unaware of his part in the crash, claiming he stuck his arm out after his son tugged his coat.
"Contrary to the thought of many people, the man himself was unaware [of the incident]," van Issum said. "He was, like the other people, enthusiastically clapping on the signs.
"At the time of the incident called his son to him and tugged at his coat. That probably made sure he stuck out his arm."
https://www.youtube.com/watch?v=vLB3CDZ7GNo
Van Issum claims that photographs of the finish indeed show that the spectator had not been looking at the riders at the time of the crash and was only made aware of his involvement when his son showed him pictures.
The organisers also confirmed that the man came forward to them and has pledged to fully cooperate in their investigation.
Thank you for reading 20 articles this month* Join now for unlimited access
Enjoy your first month for just £1 / $1 / €1
*Read 5 free articles per month without a subscription
Join now for unlimited access
Try first month for just £1 / $1 / €1