Strava artist wins award for latest cycling creation in Bristol
'Fowl Play' by Anthony Hoyte nets Bristol Cycling Festival award for the best Strava art creation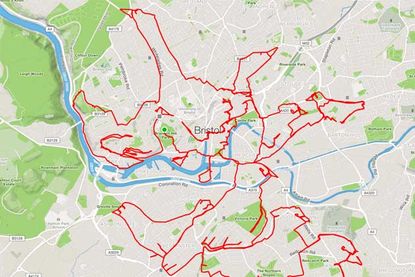 (Image credit: Anthony Hoyte/Strava)
Bristol cyclist Anthony Hoyte won the recent Bristol Cycling Festival Strava art competiton, where cyclists were encouraged to send in their GPS creations.
Hoyte cycled 51 miles (82 kilometres) through the streets of Bristol plotting out a flock of birds, which he titled 'Fowl Play'.
The intricate ride, where Hoyte planned out his ride in great detail using the West Country city's streets and cross-crossing the River Avon, took him seven hours and 39 minutes to complete on September 19.
Needless to say, with all that back-tracking and turns, Hoyte's average speed as he created the prize-winning masterpiece was just 6.7mph (10.8kmh), although he did build up an impressive total elevation of 3944 feet (1202 metres).
>>> This giant goat is probably the greatest piece of Strava art of all time
It's not Hoyte's only creation, as he has also created some cycling doodles in the past, including the face of a man drawn out while he was cycling in Mallorca in April. He also first did the 'Fowl Play' ride in 2016, but refined it for 2017 especially for the competition.
Other entries in the Bristol Cycling Festival competition were a ride resembling a roast chicken and one of a butterfly.
Organisers of the festival hope to bring the Strava art competition back in future years.
Thank you for reading 20 articles this month* Join now for unlimited access
Enjoy your first month for just £1 / $1 / €1
*Read 5 free articles per month without a subscription
Join now for unlimited access
Try first month for just £1 / $1 / €1