Strava went down last night, nobody was quite sure what to do, but the internet reacted perfectly
Riders react to the greatest crisis to hit cycling in modern times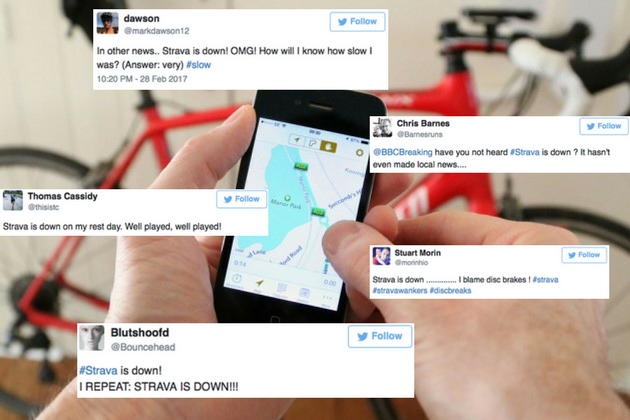 Cyclists around the world went into crisis mode on Tuesday night, as Strava, Training Peaks, and Garmin Connect all went down.
All three sites were unavailable from around 17:30 GMT, with some users unable to access the sites until Wednesday morning, as a massive outage to the Amazon Web Services, which provides cloud storage for all three fitness sites.
Over on Twitter, no one was quite sure what to do when they were unable to upload their rides (runs and swims) when they got home, with some even questioning whether they'd done any exercise at all.
>>> Seven amazing things you didn't know Strava could do
The gifs were flowing freely
Others had an alternative explanation for the outage
Some questioned why the mainstream media was failing to report on the crisis
A select few decided to look on the bright side
But for some it wasn't quite so bad
Others had alternative solutions...
The good news is that all affected websites now seem to be back up and running (excuse the pun) so any exercise you do today will have "officially" happened.