Sydney cyclists must carry identification under new proposals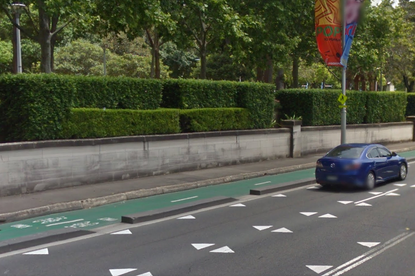 The long-running battle between cyclists and politicians in New South Wales is set to continue after the government announced plans to force riders to carry identification with them at all times.
The Sydney Morning Herald reports that NSW roads minister Duncan Gay convened a roundtable to discuss cycling-safety issues, but all that seems to have come out of it is more regulations on riders.
>>> Activists paint 'unsafe cycle lane' on Sydney streets to highlight safety issues
Government representatives are reportedly willing to trial laws requiring motorists to keep a safe distance from cyclists while overtaking, but at the same time they are keen to increase the amount cyclists are fined for breaking road laws.
The paper reports that Harold Scrubby, chairman of the Pedestrian Council, said there was a consensus that the $69 fine currently imposed is too low.
>>> Australian designer floats concept of a helmet with a licence plate
"We all agreed that registration is going to be difficult but perhaps anyone over the age of 18 should be required to carry some form of ID," Mr Scruby said.
The NSW government has long been searching for a way to license cyclists, but the expected course of action is to require riders to carry an existing form of identification, such as a driving licence.
Cyclists in Sydney are already angered by the government's decision to remove a segregated bike line on College Street to make way for the building of a new light rail line.
Thank you for reading 20 articles this month* Join now for unlimited access
Enjoy your first month for just £1 / $1 / €1
*Read 5 free articles per month without a subscription
Join now for unlimited access
Try first month for just £1 / $1 / €1