Australian designer floats concept of a helmet with a licence plate
In the latest futuristic cycling innovation to come out of Australia, designer Toby King presents a helmet with a number plate as the solution to licensing cyclists.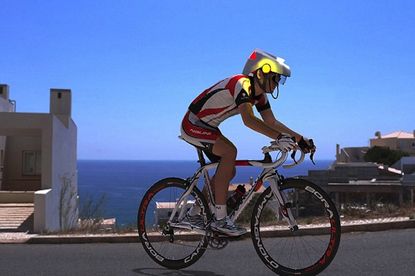 (Image credit: © smarthat.info)
As politicians in New South Wales, Australia, consider plans to license cyclists, an opportunistic designer has submitted his ideas for a helmet with a number plate on it.
With helmet use compulsory Down Under, Toby King's design would double up as a cycling safety device, with a host of lights and warnings alerting the cyclist to danger.
The 'smart hat' includes a speaker to warn the cyclist when they are riding too close to pedestrians, as well as a visor with its own wiper and mirrors installed.
King presented his concept to Mosman Council, saying: "This is a concept for better road safety. It is not a product or a business, it is a concept design," he said.
"There are not many features on the current helmets that makes them safe."
It's the latest futuristic design to come out of Australia, coming after the X-wing-style handlebars created by 4DESIGN with the help of 2011 Tour de France winner Cadel Evans and Oakley.
Source: Telegraph (Australia)
Cadel Evans joins forces with Oakley and Australian design company 4DESIGN to create a prototype of some handlebars of the
Helmets "not in the top 10 issues affecting cyclists", says BC policy advisor
Headcams highlight problem but don't solve it, says safety organisation
Thank you for reading 20 articles this month* Join now for unlimited access
Enjoy your first month for just £1 / $1 / €1
*Read 5 free articles per month without a subscription
Join now for unlimited access
Try first month for just £1 / $1 / €1